Profile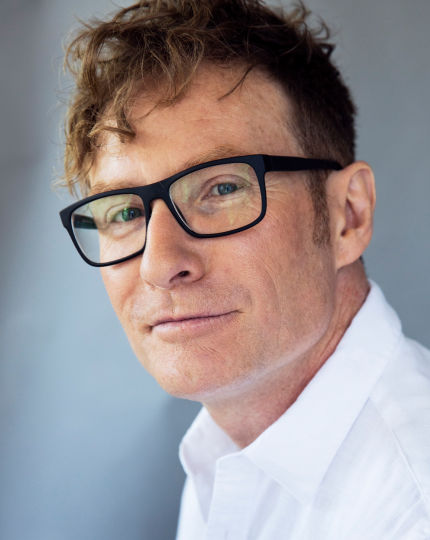 MC, Satirist, Speaker, Writer, TV Personality
In the course of his career, Te Radar has dived with sharks, narrowly avoided a rabbit while racing a Formula 3 car at over 200kph, plunged into the frozen Ross sea in only a skimpy pair of togs, interviewed Yassar Arafat under the watchful eye of gun-toting Palestinian soldiers, been stung in a rather awkward place by a scorpion, and become (unofficially) New Zealand's worst television gardener.
With a string of awards including the country's highest accolades for television and comedy, he is also one of New Zealand's most recognized personalities.
A natural raconteur, he is a sought-after keynote speaker, awards host, MC, and moderator. His diverse background allows him to knowledgably host events across the Agricultural, Engineering, Science, Arts, Media, Medical, Environmental and Academic sectors. Quick-witted and well-informed, he is an ideal host for panel discussions and onstage interviews.
His particular love for, and knowledge of the untold stories of New Zealand history inspired his latest critically acclaimed TVNZ series Te Radar's Chequered Past. His own diverse past and its stories have become his greatest asset.
SPEAKER TOPICS:
New Zealand's History of Innovation
New Zealand's Unsung Heroes
Adversity and Opportunity
Celebrating Community
Postcards from Abroad: What The World Can Teach Us
Why The Arts Are More Relevant Than Ever
The Woolshed as Cathedral: New Zealand Architecture
Sustainability and Self Sufficiency
Dengue in Dargaville: Unexpected Effects of Climate Change
Agribusiness: The future of farming/food
And many more: bespoke topics as required, and current topics can be adapted to fit event themes
Location
Auckland, New Zealand
Skills
After Dinner Speaker, Broadcaster, Celebrity, Comedy Host, Compere/MC, Debator, Documentary, Field Presenter, Improvisor, Journalist, Judge, Keynote Speaker, Live Performance Host, MC / Stage compere, Mimic & Impersonator, Panellist, Radio Host, Reality/Entertainment Host, Speech Writer, Television
Interests
Adventure, Advertising, Author, Broadcasting, Conservation / Environment, Current Affairs, Fashion, Film & Television, Food & Wine, Gardening, History, Intrepid Travel, Literature / Books, Music, Politics, Quiz Shows, Race Relations, Satire, Stand up comedy, Theatre, Travel
Testimonials (26)
HRNZ Virtual HR Summit – HR Managing the Crisis

We had the pleasure of working with Te Radar on our first Virtual Summit. With the country in lockdown many events flocked online, with varying degrees of success. Our aim was to produce a top quality, world class online, half day event. This was the first time HRNZ had produced a half day Summit virtually and we needed someone to be the glue that pieced it all together. Te Radar was our glue, helping us achieve a high level of engagement and interaction, keeping the sessions moving and on time, facilitating the Q&A with ease and ensuring the sessions threaded together seamlessly. Te Radar is incredibly quick on his feet and was very well prepared with a clear understanding of the topic and the technology. Together with his professionalism and superb MC skills (both live and online), along with Injecting his own wonderful wit and style, helped to ensure the Summit was heralded a success. We were so pleased with our choice of Te Radar as MC that we have hired him again to MC our second Virtual Summit.

Tina Berry

Regional Events Manager

Human Resources New Zealand