Profile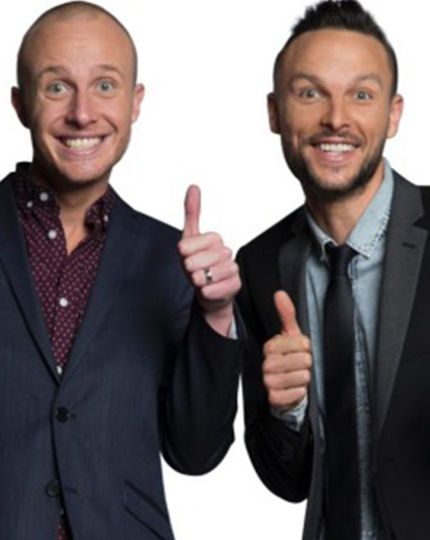 MC's / Celebrity TV & Radio Host's
Jono Pryor and Ben Boyce (aka Jono and Ben) are New Zealand's most notorious comedy duo. These two are constantly on the go. When they're not pranking each other, and the rest of the country, on their self-titled TV show Jono and Ben,you'll hear them hosting the afternoon drive slot on The Edge alongside Sharyn Casey.
Location
Auckland, New Zealand
Skills
Comedy Host, Compere/MC, Judge, Mimic & Impersonator, Panellist
Interests
Broadcasting, Current Affairs
Testimonials (2)
Anna Archer, Senior Live Experience Manager, Spark

Jono and Ben emceed our annual awards dinner - the second year in a row. They did such a good job the first time round, our CEO asked them to return before the night was through!

Jono and Ben are ultimate professionals. They took the time to understand our brief, our audience and our expectations. And, they definitely didn't disappoint. They both went above and beyond, creating videos and skits to add to the experience for our guests. They created consistent 'laugh out loud' moments which were so well received.

I wouldn't be surprised if our CEO insists that they come back next year!