Profile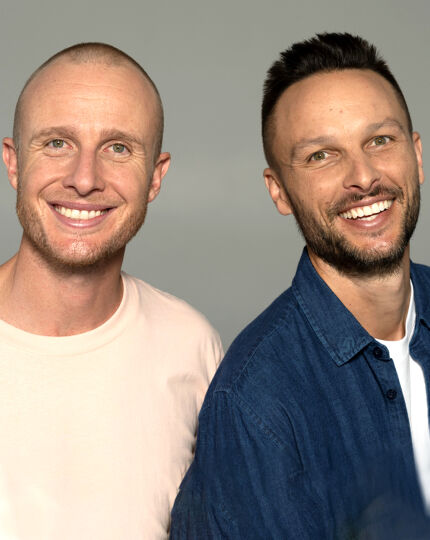 TV and Radio Personality, MC, Speaker, Writers
Jono and Ben are New Zealand's favourite comedy duo! These two best mates teamed up over a decade ago in a bid to entertain the public on both TV and radio - they haven't looked back since. Their wildly popular TV show, Jono and Ben, ran for 7 years and won New Zealand's Best Comedy at the NZ TV Awards. The show was such a hit that in 2015 it moved from its late night spot to the prime time of 7:30 PM. Their mix of sketches, pranks, stunts and interviews have been seen by hundreds of millions online amassing Jono and Ben a huge social media following.
They have also hosted the New Zealand Music Awards twice together as well as prime time reality TV show 'Dog Almighty" and sports factual comedy "Jono and Ben Good Sports". Jono and Ben are multi-award winning radio hosts with number one radio shows on The Rock FM and Edge FM. These days they are waking up New Zealanders on their Breakfast Show on The Hits FM from 6:00am to 9:00am.
In the past they have teamed up with big clients making them commercially appealing having had "Jono and Ben" burgers at Burger King, their own Jono and Ben energy drinks with V Energy and fronting TV advertising campaigns for Uber Eats and Heineken.
Jono and Ben love having a laugh (often at each others' expense) and don't take themselves too seriously. Their mad antics have seen them attempting news grabbing stunts like - sailing a children's inflatable bouncy castle across a New Zealand lake, driving a Bumper Car for 30 hours straight and watching the Deadpool 2 movie trailer non-stop until Hollywood movie star Ryan Reynolds FaceTimed them - he eventually did after 27 hours!
These typical kiwi jokers have been lucky enough to make comedy content with some of the world's biggest stars - Justin Bieber, Ed Sheeran, Kevin Hart, Dwayne Johnson and Sarah Jessica-Parker. Their relentless work ethic has them achieve all of this so far and next on the "to do list" is to write and release their own feature length film. These two stars have already made their mark on the media industry and show no signs of stopping!
Location
Auckland, New Zealand
Interests
Broadcasting – Radio/TV, Comedy, Current Affairs, Music, Politics & Advocacy, Pop Culture, Quiz Shows, Satire, Sport, Travel
Links