Profile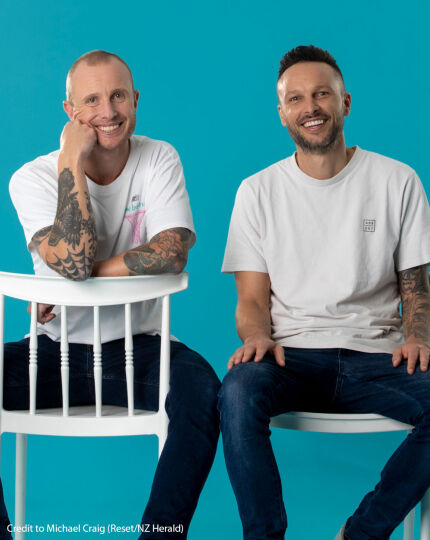 TV and Radio Personality, MC, Speaker, Writers
Jono and Ben are a hotter Kiwi duo than mince and cheese in a service station pie! These two best mates teamed up in 2011 in a bid to entertain the nation on both TV and radio and they haven't looked back since. Their TV show Jono and Ben ran for 7 years and won New Zealand's Best Comedy at the NZ TV awards. Starting out as a late night show, Jono and Ben quickly became a massive hit and moved to the primetime spot of 7:30 PM. The duo are also multi-award winning radio hosts with their top-rating afternoon drive shows, first on The Rock FM and then on The Edge FM with their mate Sharyn. Currently, they're the hosts of The Hit's popular Breakfast Show.
Jono and Ben love having a laugh (often at each other's expense) and never take themselves too seriously. Their mad antics have seen them attempting news-grabbing stunts like sailing a bouncy castle cross Lake Taupo, driving a bumper car for 30 hours straight and watching the Deadpool 2 movie trailer non-stop until Hollywood star Ryan Reynolds facetimed them – he eventually did! They have also been lucky enough to hang out with some of the world's biggest movie stars like Justin Bieber, Ed Sheeran, Dwayne Johnson and Will Smith.
These typical Kiwi jokesters have also proved themselves to be awesome at public speaking. Their easy-going and hilarious characters have seen them host the prestigious Vodafone NZ Music Awards twice, as well as MC a number of corporate awards, ceremonies and functions! These two are loved everywhere they go and bring a special kind of fun to each and every event they work on.
Location
Auckland, New Zealand
Skills
After Dinner Speaker, Broadcaster, Comedy Host, Compere/MC, Live Performance Host, Professional Speaking, Radio Host, Television Presenter
Interests
Broadcasting – Radio/TV, Comedy, Current Affairs, Music, Politics & Advocacy, Pop Culture, Quiz Shows, Satire, Sport, Travel
Links
Event Highlights
| | |
| --- | --- |
| 2023 | FIFA Fan Festival - H3 Group - MC's |
| 2023 | Registered Master Builders Association, House of the Year - MC's |
| 2023 | Skoda Annual Dinner - European Motor Distributors - MC's |
| 2023 | Spark Consumer Channels Awards, Type 40 Events - MC's |
| 2023 | Spark, Spark SME Te Taumata Awards - MC's |
| 2023 | SPUR Foodstuffs Co-Op Awards Night - MC's |
| 2022 | Spark Channel Champions Awards, Type 40 Events - MCs |
| 2022 | Spark SME Channel Champions Awards, Type 40 - MCs |
| 2021 | Spark SME Conference 2021, Spark NZ - MCs |
Testimonials (4)
Julie Stevens | Regional Branch Manager

Thank you both for your recognition of the team's hard work that goes into orchestrating such an event which is greatly appreciated. I want to extend our appreciation and thanks for your outstanding role as the MCs on Saturday night and acknowledge how great you both were to work with. You kept the attendees engaged throughout the evening with a perfect blend of humour and audience participation which they absolutely loved. Once again, thank you for your huge contribution to the success of our House of the year Gala Dinner and look forward to the cake in the future!!!!

House of the Year 2023

Registered Master Builders Association