Profile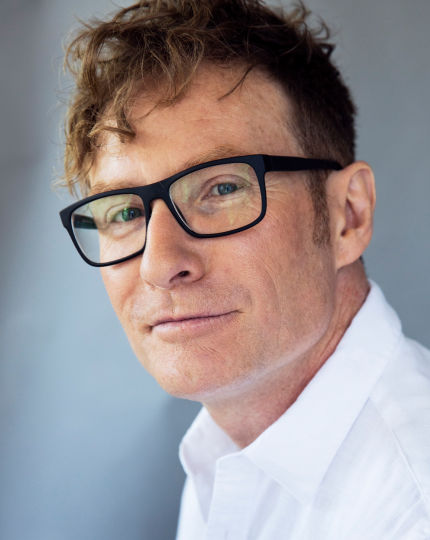 MC, Satirist, Speaker, Writer, TV Personality
Te Radar is one of the most recognised entertainers and personalities in New Zealand. Whether as a stand up comedian, documentary maker or the fusion of both in his keynote speeches, he is as gregarious as he is accomplished. Having won just about every New Zealand comedy award from the Fred Award to the Billy T Award for excellence in comedy, he also has a myriad of accolades in documentary making from the Qantas Awards in Film and Television to the NZ Television Awards. In 2018 he received an honorary Master of Arts degree from Wintec for his contribution to Media and Entertainment. Witty, engaging and well-informed, Te Radar is a sought-after keynote speaker, with an ability to knowledgeably host diverse events across the Agricultural, Engineering, Science, Media, Arts, Medical, Environmental and Academic sectors.
Mission
Te Radar wanted to be a war correspondent when he was a kid. He wanted to tell historical stories he didn't see being portrayed. Naturally, he went to drama school, coming out full force in the comedy scene before diving into documentary making. In the course of his career Te Radar has dived with sharks, narrowly avoided a rabbit while racing a Formula 3 car at 200kph, plunged into the frozen Ross sea in only a skimpy pair of togs and interviewed Yassar Arafat under the watchful eye of gun-toting Palestinian soldiers.
Te Radar does not profess to be someone on the hero's journey. He enjoys life, has the ability to say yes to anything and wants to share it all with people. He is a story teller and his goal is to make all his work thought provoking, entertaining and joyous.
Keynote
Taking years of comedy and improv experience and bringing that together with his love for documentary making, Te Radar brings a sense of joy to his keynotes with a delicate dance between irreverence and creating a safe and comfortable space. His testimonials often mention his flexibility, authenticity, and compassion for the audience.
When making documentaries Te Radar is meeting fascinating people doing incredible things and empowering them to feel comfortable to talk by quickly creating a rapport. This transforms his keynote speaking with a personal touch. He is often on the ground with his audience, sitting and chatting with them. He then has the ability to incorporate these conversations and ideas into his presentation bespoke to the organisation. His unique keynotes assert a high probability that what he pulls out of their context will be relevant yet unexpected.
Te Radar emphasises that human stories are universal; we are a species that relate to each other. Using stories he loves, he shares a broader message about life, while being funny, entertaining, and serious when needed, following through on the emotional connection within these stories and leaving his audience heard, uplifted, and entertained.
Location
Auckland, New Zealand
Skills
After Dinner Speaker, Comedy Host, Compere/MC, Debator, Judge, Keynote Speaker, Live Performance Host, Mimic & Impersonator, Panellist, Speech Writer
Interests
Adventure, Advertising, Author, Broadcasting, Conservation / Environment, Current Affairs, Fashion, Film & Television, Food & Wine, Gardening, History, Intrepid Travel, Literature / Books, Music, Politics & Advocacy, Quiz Shows, Race Relations, Satire, Stand up comedy, Theatre, Travel
Speaking Topics
additionally has the ability to cater to clients theme/ topic for the event, agribusiness, Business, Motivational Speaker, New Zealand history, "I am New Zealand's worst television gardener": how failure equals success, "Potato salad, road rage, and night work": the less publicised aspects of climate change
Event Highlights
| | |
| --- | --- |
| 2023 | Ballance Ex Dinner Series 2023, Ballance Agri-Nutrients - MC |
| 2023 | Beef + Lamb Genetics - TAMBO - Speaker |
| 2023 | Beef + Lamb Mid Northern North Island Farmer Council AGM, Beef + Lamb NZ - Speaker |
| 2023 | Beef + Lamb NZ National Farmer Council Conference, Beef & Lamb NZ - MC |
| 2023 | Farmer Manager's Conference , Pamu - MC |
| 2023 | Frame & Truss Association of Nz Confrence, Special Events Aoraki - MC |
| 2023 | Genesis Energy Huntly Powerstation Function, The Event Company - MC |
| 2023 | Hawke's Bay Primary Sector Awards, Showgrouds Hawke's Bay - MC |
| 2023 | Hawke's Bay Young Fruit Grower of the Year, Hawke's Bay Fruitgrowers Association - MC |
| 2023 | Hire Industry Association of NZ Conference & Awards, ForumPoint2 - MC |
| 2023 | Motive Conference Gala Night, Motive Events - MC |
| 2023 | REAWARDS, Research Association NZ - MC |
| 2023 | Registered Master Landscapers Awards, Registered Master Landscapers - MC |
| 2023 | Stormwater Conference, Avenues Limited - MC |
| 2023 | Summerfruit New Zealand Conference, ForumPoint2 Ltd - MC |
| 2023 | Young Farmer of the Year Series 2023, New Zealand Young Farmers - MC |
| 2022 | ANZCO Livestock Conference, ANZCO Foods - Speaker |
| 2022 | Auckland Conversation, Auckland City Council - MC |
| 2022 | Carbon & Energy Professionals NZ Conference 2022, Forum Point2 - MC |
| 2022 | Central Property People Awards, Property Council NZ - MC |
| 2022 | CRV Awards, CRV Head Office - MC |
| 2022 | Feilding Rural Day, Feilding & District Promotion - MC |
| 2022 | Fire NZ Awards Dinner, Fire Protection Association NZ - MC |
| 2022 | FSF Awards, Financial Services Federation - MC |
| 2022 | Gisborne Engineering - MC |
| 2022 | Government Economic Network Conference, MBIE - MC |
| 2022 | Hawke's Bay Young Fruit Grower of the Year, Hawke's Bay Fruitgrowers Association - MC |
| 2022 | Intelact 2th Year Anniversary Dinner - Rotorua - MC |
| 2022 | iSANZ Awards 2021, iSANZ Charitable Trust - MC |
| 2022 | iSANZ Awards 2022, iSANZ Charitable Trust |
| 2022 | ITM, C&I Travel Specialists - Entertainer |
| 2022 | Mas Webinar, MAS - MC |
| 2022 | National Catchments Forum, NZ Landcare Trust - Speaker |
| 2022 | NZ Esri Users Conference, Eagle Technology - MC |
| 2022 | NZ Young Farmer of the Year Series 2022, New Zealand Young Farmers - MC |
| 2022 | NZAIMS Conference, NZ Association of Intermediate and Middle School - MC |
| 2022 | PRINZ Awards 2022, Public Relations Institute of New Zealand |
| 2022 | Resolve Group 20th Anniversary, Resolve Group - MC |
| 2022 | Rural Service Awards 2022, Rural Service Centre - MC |
| 2022 | Security Awards, NZ Security Association - MC |
| 2022 | Southern Cross Leaders Strategy Day, Southern Cross Health Society - MC |
| 2022 | Sustainable Business Awards, Sustainable Business Network - MC |
| 2022 | TAMA Conference, Tractor & Machinery Association - MC |
| 2022 | Taranaki Business Awards, Taranaki Chamber of Commerce - MC |
| 2022 | Voyager Awards, Stuff - MC |
| 2022 | Water NZ Conference, Avenues Conference & Event Management - MC |
| 2022 | Wealthpoint, Captive Audience - Speaker |
| 2021 | Ballance Ex Dinner Series, Ballance Agri-Nutrients - MC |
| 2021 | BCITO Conference 2021, BCITO - MC |
| 2021 | BCITO Gala Dinner, BCITO - MC |
| 2021 | CEP Conference 2021, Carbon and Energy Professionals New Zealand - MC |
| 2021 | Cleantech Connect, New Zealand Trade & Enterprise - MC |
| 2021 | Electra Business & Innovation Awards 2021, Pom Pom Events and Marketing - MC |
| 2021 | Export NZ Awards, Export New Zealand Hawke's Bay - MC |
| 2021 | Facebook Live 'Bird of Year', Pursuit Public Relations - MC |
| 2021 | Facebook Live 'Paralympic NZ', Pursuit Public Relations - MC |
| 2021 | Facebook Live 'Sea week'. Pursuit Public Relations - MC |
| 2021 | Flux Federation Conference, Flux Federation - MC |
| 2021 | Hawke's Bay Young Fruit Grower of the Year 2021, Hawke's Bay Fruitgrowers Association - MC |
| 2021 | Holiday Parks Conference 2021, Holidays Parks New Zealand - MC |
| 2021 | NZ Young Farmer of the Year Series 2021, New Zealand Young Farmers - MC |
| 2021 | RAEAWARDS 2021, Research Association New Zealand - MC |
| 2021 | Stormwater Conference 2021, Avenues Conference & Event Management Ltd - MC |
| 2021 | Stuff 1st Anniversary, Stuff - MC |
| 2021 | Sustainable Business Awards 2021, Sustainable Business Network - MC |
| 2021 | Te Puke Business Excellence Awards 2021, Te Puke Economic Development Group Inc - MC |
Testimonials (4)
Anna Thompson | Event Manager

I am absolutely thrilled to share my experience working with Te Radar as our MC! Te Radar's unparalleled talent and charismatic presence truly made our event an unforgettable one.

Right from the outset, it was evident that Te Radar had dedicated significant time and effort to understand the essence of our event. His thorough preparation allowed them to seamlessly weave together the different elements of the program, creating a coherent and engaging narrative that resonated with our audience.

Te Radar's stage presence was nothing short of captivating. His infectious energy, combined with a remarkable ability to connect with people, instantly drew the audience in. It was evident that they had not only rehearsed the runsheet but had also meticulously thought through the flow of the event, ensuring that transitions were smooth and interactions were seamless.

What truly impressed us was Te Radar's quick thinking and adaptability. In the face of unexpected moments, he displayed an uncanny ability to improvise on the spot, turning potential challenges into memorable highlights of the event. His spontaneous humor and on-the-fly commentary showcased his wit and genuine engagement with the audience.

Throughout the event, Te Radar's commitment to aligning their hosting with our event's theme was remarkable. His insightful incorporation of key messages and talking points demonstrated his dedication to going above and beyond the role of an MC. It was evident that he genuinely cared about the success of our event and worked tirelessly to ensure that their hosting played a pivotal role in achieving that success.

Working with Te Radar not only made our event a resounding success but also left us with wonderful memories of the entire process.

We would wholeheartedly recommend Te Radar to anyone seeking an MC who brings not only their talent but also their unwavering dedication to the table. His exceptional blend of preparation, performance, and personal touch sets them apart in the world of event hosting. It would be an honor to have the opportunity to work with Te Radar again in the future.

Motive Gala Night 2023

Motive Events