Profile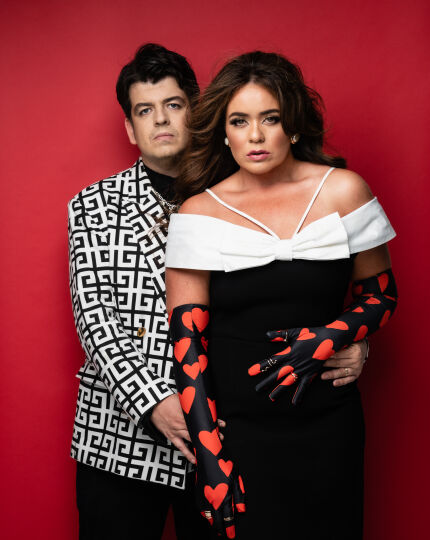 Two Hearts are a very serious pop-duo consisting of NZ comedians Laura Daniel (vocals) and Joseph Moore (beats/occasional vocals when it isn't too hard).
Comedians Laura Daniel and Joseph Moore are Two Hearts, a comedy pop music duo who have gained huge success in New Zealand and abroad for their on-screen appearances and wildly-funny stage shows that bring an arena spectacular to a non-arena sized venue.
Since forming in 2016, Two Hearts have played to sell-out audiences in Auckland, Wellington, Sydney, Melbourne, London, and Edinburgh. Their comedy hits have been seen on multiple TV series including 7 Days, Seven Sharp, Just For Laughs Sydney, Jono & Ben, Funny Girls and the New Zealand Comedy Gala. Their live shows have been nominated for both the prestigious Billy T Award (2018) and the Fred Award for Best Show (2021). Whilst Two Hearts started as a strictly platonic venture, as of December 2022, Joseph and Laura are now extremely married.
Location
Auckland, New Zealand
Testimonials
Chris Peak | Events Manager

Two Hearts were great to work with and I thought what they scripted was perfect for the audience. It was a shame the set-up of the room meant sections of the audience weren't as engaged as they deserved them to be as I thought their material was great and deserved more of an attentive audience – but that was certainly no reflection on them. It was really great of Laura to hop back on stage and get the audience to quieten down for Lisa as well – that was very much appreciated!