Profile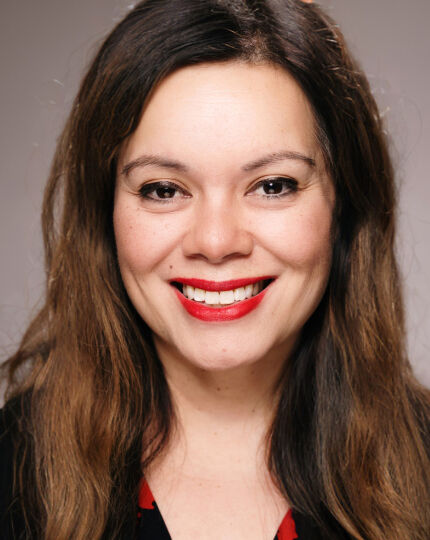 Creative Entrepreneur and Multi hyphenate
Tupe Solomon-Tanoa'i is an engaging speaker, skilled presenter and powerful storyteller who has spent her professional and personal life advocating for diversity and inclusion. The Samoan/Fijian Kiwi is a law graduate and former diplomat who has a seat on various boards and advisory groups offering her expertise in international trade, philanthropy, media, and engaging with Asia and the Pacific.
Mission
Five years ago Tupe left her dream job; thirteen years as a diplomat. Stepping outside of that space was scary, departing from the nice, predictable life of climbing the ladder. Since starting down the path of creative entrepreneurship, she has seen her own ideas come to life, marrying her corporate experience with her empathy and creativity. Tupe became the co-founder of the first Pasifika Youth Short Film Competition and creator of the award nominated web series on unconscious bias, Misadventures of a Pacific Professional.
Taking great pride in her Samoan and Fijian heritage, Tupe aims to uplift and showcase Pasifika peoples, and continue to create representation through practice in both media and academia. Navigating the corporate world as a young Pasifika woman has meant proving herself ten fold. Instead of pandering to the Western workplace and changing, she is changing the structures surrounding her. In 2020 Tupe won the diversity category in the New Zealand Women of Influence Awards and was also recognised as one of the University of Auckland's 40 under 40. Tupe wants to make people feel heard.
Keynote
When Tupe entered the workplace, she learnt to dress a certain way. She didn't want to appear ethnic or feminine so she hid in plain sight. Because she was suppressing part of who she was, Tupe wasn't operating at her full capacity. She was bumping against the glass ceiling. Tupe is a leader in her family and community, why would that change anywhere else? Once she brought her whole self to work, she harnessed her full potential and her career took off. Tupe encourages listeners to embrace yourself to succeed. Don't hide the parts of yourself that are different, use those parts as an advantage. There is power in breaking the mould.
Tupe has found that leadership looks different to different people. In western society, we over value assertiveness and confidence. In a pacific context, humility, service, consensus based decision making and reciprocity are highly valued in leaders. Tupe emphasises the power of the collective in pacific culture, drawing on her own family experience and applying this to organisations. By giving everyone their own space to shine, an organisation can harness everyone's individual abilities and talents, leading to a greater outcome. If you dominate conversations: listen more. If, like Tupe, your superpower is listening, find other ways to be heard.
Location
Wellington, New Zealand
Skills
Compere/MC, Keynote Speaker, Panel Facilitator, Panellist
Interests
Asia Pacific region , Diversity & Inclusion, International Trade , Leadership, Unconscious bias
Speaking Topics
Authentic Leadership, Building Belonging, Building Effective Relationships, Business, Cultural Competency, Designing your career, Diversity and Inclusion, Equity, Lifestyle & Wellbeing, Listening as a superpower, Motivational Speakers, Politics & Advocacy, Self Acceptance, Starting a Business, The Power of the Collective, The quiet influencer, Unconscious Bias
Links
Event Highlights
| | |
| --- | --- |
| 2023 | International Women's Day Parliamentary Breakfast - MC |
| 2023 | MEETINGS Welcome Function, BEIA - MC |
| 2023 | Pacific Lawyers Association End of Year Dinner - MC |
| 2023 | Panel discussion on Corruption, IFBT Annual Meeting, Serious Fraud Office – Moderator |
| 2023 | Pasifika Youth Short Film Competition Alofa Awards - MC |
| 2022 | Building Belonging Day, FirstGas Group - Speaker |
| 2022 | ECC Conference, Early Childhood Council - Speaker |
| 2022 | FirstGas Interview, FirstGas Group - Interviewee |
| 2022 | International Women's Day Parliamentary Breakfast - MC |
| 2022 | Pasifika Youth Short Film Competition – Founder and Speaker |
| 2022 | Tauranga Arts Festival - Panel Chair |
| 2022 | Women In Public Service Virtual, Avenue Event Management - Speaker |
| 2021 | Chartered Accountants Australia NZ Women in Business Conference - Speaker |
| 2021 | Golf NewZealand Summit - Speaker |
| 2021 | International Women's Day Parliamentary Breakfast |
| 2021 | Pacific Agreement on Closer Economic Relations (PACER Plus) Anniversary - MC |
| 2021 | Te Aratini, Festival of Indigenous Ideas, Dubai – Panel Chair and Panellist |
| 2021 | The New Zealand Women's Leadership Symposium - Panelist |
Testimonials (4)
Rose Rehm | Manager Investigations & Prosecutions

We are very grateful to Tupe for moderating a panel discussion at a recent event hosted by us for international delegates. Tupe demonstrated a strong understanding of the topic, moderating the discussion with ease, ensuring a balanced conversation among panelists. Tupe was a pleasure to work with providing support and advice where needed. The feedback from the discussion was overwhelmingly positive with delegates describing the discussion as 'insightful' and 'extremely interesting'.

Serious Fraud Panel 2023

Serious Fraud Office