Profile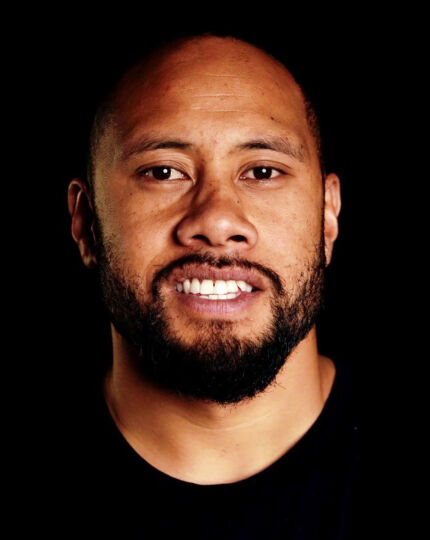 Mental health advocate
In a shift from professional rugby to mental health advocate, Tai Tupou evolved his struggle into service: adapting to unforeseen changes and drawing on his experience to help others. For the past ten years Tai has been travelling around the country to educate New Zealanders on normalising mental health.
Mission
Tai Toupou has spoken on mental health to tens of thousands of people across New Zealand. When his dream of representing Auckland in the NRL was shattered after severely injuring his ankle, Tai endured an intense depression. After surviving, he went public with his story in order to help remove the mental health stigma in Aotearoa. Ten years (and three kids) later, Tai uses his platform to be a voice for those who don't have one. If the hardest thing he will do in his life is be vulnerable so others can stay alive, he will use it to the ultimate extreme. Whether walking into a dairy barefoot or at the airport ready to go, he is always accessible. His passion is making people understand that we all have a part to play in keeping our community uplifted.
His unfaltering loyalty keeps him connected to his work in every moment of life. Tai Toupou is in the hope selling business. No matter what you are going through, Tai wants you to know that it is normal, you are not alone, and whatever it is, small or big, it matters and he is here to listen and to connect.
Keynote
The biggest problem in the world is communication, or specifically, lack of. Tai highlights the importance of having conversations in person; reading the room, body language, and how you are being communicated to. There is a lot of research based on opinions rather than the source. Let yourself be heard. Tai also dives deep into the world of the overactive inner critic; the everyday conversations we have with ourselves. He asks the question, would you let someone talk to you the way you talk to yourself? Tai emphasises that we need to manage our mental health like going to the gym, brushing our teeth or the strange grass only diet you found yourself committing to. Tai has worked with everyone; school students, professional athletes, in the workplace and on the ground in the community. He is malleable, relatable and honest. Tai is a true community man with presence and soul.
Location
Hamilton , New Zealand
Event Highlights
| | |
| --- | --- |
| 2023 | He. Men's Mental Health Event, Fontein Coaching - Speaker |
| 2023 | Inspiring Greatness, Moana Pasifika Rugby - Speaker |
| 2023 | Men-tall Health Club Black Tie Gala, Men-tall Health Club Charitable Trust - Speaker |
| 2023 | RCSA Webinar - The Recruitment, Consulting & Staffing Association - Speaker |
Testimonials (2)
Cassandra Hogan | Life & Business Coach.

We were fortunate to have Tai Tupou speak at our inaugural He. Men's Mental Health Event on the 13th of October 2023 at Mount Maunganui. Tai was an incredible part of the He. Speaker panel. He was raw, vulnerable and the audience was completely captivated when he was speaking. You could hear a pin drop. Not only were his stories on point and well presented, but he was also a pleasure to work with. He showed up on time, communicated effectively and aligned with the vision of what we were trying to achieve. I would highly recommend Tai for any future speaking engagements.

He. Men's Mental Health Event 2023

Fontein Coaching