Profile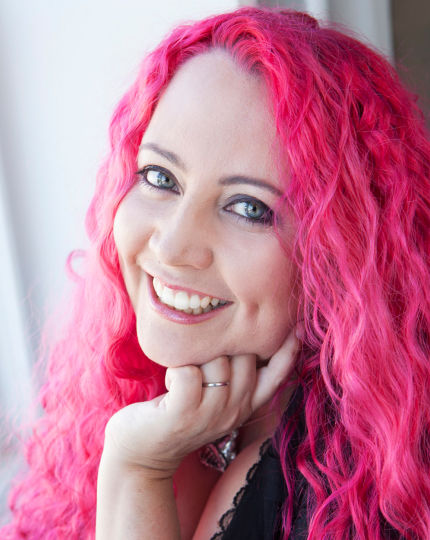 Pink Haired Science Communicator
One of the country's most recognised scientists, Dr. Siouxsie Wiles and her team make bacteria glow in the dark to find out what is making us sick with the aim of finding new medicines. Outside the lab, Siouxsie regularly appears on radio and TV to communicate science and deliver hard hitting facts. In 2019 she was made a member of the New Zealand Order of Merit, for services to microbiology and science communication. Prior to this, she has been honoured as a Blake Leader by the Sir Peter Blake Trust as well as winning both the Royal Society Te Apārangi Callaghan Medal and the Prime Minister's Science Communication Prize. During the COVID-19 pandemic, Siouxsie became one of the primary faces, communicators, and educators in NZ. This led to Siouxsie being named the supreme winner of the Stuff-Westpac Women of Influence Awards in 2020 and the 2021 Kiwibank New Zealander of the Year. During this time, she was followed by a documentary-maker and the film Ms. Information will soon be playing at the New Zealand International Film Festival.
Mission
Despite a successful career in London, in 2009 Siouxsie followed her partner to New Zealand where she soon began to add science communicator to her list of skills. Little did she know that in 2020, when the COVID-19 pandemic hit New Zealand, she would become one of the main scientific faces of the COVID-19 crisis. Her award-winning collaboration with cartoonist Toby Morris has saved lives all around the world and led to her being named as one of the BBC's 100 women of 2020. Ready to step up and help as an infectious disease expert, Siouxsie was unprepared for the harassment and abuse that followed. Within months, she had become a target for those who wished to use the pandemic to divide, manipulate, and exploit people. Its an issue she wants us to talk more about; many of her abusers aren't anonymous "keyboard warriors" but people from all walks of life using their real names and work emails to harass her. Outside of COVID-19, Siouxsie is a passionate scientist whose main goal is to find new antibiotics to treat resistant 'superbugs'. Without antibiotics, these superbugs make surgery much less safe and treatments like chemotherapy for cancer become life-threateningly risky. She's written a book about the issue – Antibiotic resistance: the end of modern medicine? – and she and her team are doing what they can from right here in New Zealand to help combat this global crisis.
Keynote
Siouxsie delivers keynotes on a wide range of topics from leadership, communication, and harassment, to COVID-19, future pandemics, vaccination, antibiotic resistance, and creativity in science. Her motivation is to help people understand the importance of collective action. No matter the topic, or the situation, as individuals we can achieve amazing things when we work together.
Ethnicity
British, New Zealander
Location
Auckland, New Zealand
Skills
Keynote Speaker, Panellist
Interests
Current Affairs, Health & Lifestyle, Research, Science
Speaking Topics
Authenticity (bringing your whole self to your work/career), Being a woman in science, Business, COVID-19, Innovation, Leadership, Motivational Speakers, Pandemic/Infectious diseases/antibiotic resistance
Event Highlights
| | |
| --- | --- |
| 2023 | AMWA Event, Australasian Medical Writers Association - Speaker |
| 2023 | ARMS Annual Conference, Australian Research Management Society - Speaker |
| 2023 | Renal Society Symposium, Renal Society of Australasia - Speaker |
| 2022 | Boarder, Boundaries and Pandemics, University of Ottawa Centre for Health Law, Policy and Ethics - Speaker |
| 2022 | High Court Judges Conference 2022, High Court of New Zealand - Speaker |
| 2022 | IPWEA NZ & ACE NZ Conference, The Conference Team - Speaker |
| 2022 | NZ Principals Federation Conference, The Conference Company - Speaker |
| 2022 | NZACA Conference, NZ Aged Care Association - Speaker |
| 2022 | NZIE Conference, Education NZ - Speaker |
| 2022 | PMAANZ Annual Conference, Conference Innovators - Speaker |
| 2022 | Professional Women's Conference, Canterbury Women's Legal Association - Speaker |
| 2022 | Southern Enrolled Nurse Study Day - Virtual - Speaker |
| 2022 | Water NZ Conference, Avenues Event Management - Speaker |
| 2022 | Wisconsin Health Literacy Summit, Wisconsin Literacy - Speaker |
| 2022 | Women in Public Service Virtual Summit, Avenue Event Management - Speaker |
| 2021 | Building Nations Symposium, Infrastructure New Zealand - Speaker |
| 2021 | Careerforce Conference, Careerforce - Speaker |
| 2021 | Cooney Lees Morgan & Craigs Investment BWN Speakers Series, Tauranga Business Women's Network - Speaker |
| 2021 | Customer Growth Summit, Southern Cross Health Society - Speaker |
| 2021 | DWU National Congress, NZ Dairy Workers Union - Speaker |
| 2021 | Financial Advice NZ Conference, The Conference Team - Speaker |
| 2021 | IPC Leaders Webinar, Ryman Healthcare - Speaker |
| 2021 | Ladies Luncheon, Create Marketing & Events Ltd - Speaker |
| 2021 | MIQ Leadership Forum, Ministry of Business, Innovation & Employment - Speaker |
| 2021 | MSD Animal Health, MSD Animal Health NZ - Speaker |
| 2021 | People Leaders Session, Auckland Council - Speaker |
| 2021 | Service IQ Conference, Service IQ - Speaker |
| 2021 | Survey & Spatial NZ Conference, Survey and Spatial New Zealand - Speaker |
| 2021 | Women in Business Conference 2021, Queenstown Chamber of Commerce |
Testimonials (4)
Nicola Ryan | Medical Communications Specialist

The keynote address from Siouxsie was the perfect way to start our conference. She related her presentation to our specific audience of health and medical writers, and provided practical examples and 'takeaways' for attendees.

Australasian Medical Writers Association Event 2023

Australasian Medical Writers Association