Profile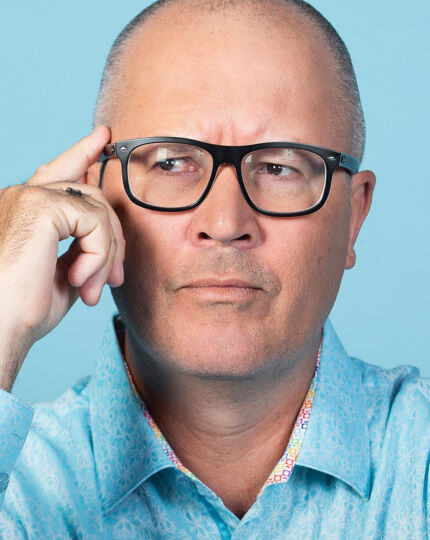 Comedian, MC, TV Personality, Entertainer
Paul Ego has New Zealand's most recognisable voice, but his massive portfolio and ability to make everyone laugh is pretty cool too. Boasting 20 years on New Zealand radio's More FM and The Rock, Paul Ego is an industry veteran. He was awarded the Billy T award in 2000 for his outstanding comedic talent and continues to delight crowds with his masterful improv and acclaimed wit today.
An innovative industry stalwart, Paul easily moves (and grooves) with the times, lending his charm to productions and making them iconic. Paul's extensive career has seen him as a staple favourite on the hugely popular comedy show 7 Days, as well as the voice of the stickman in the PAK'nSAVE ads!
Currently, back on the airways where it all started with the MooreFM Breakfast Club with Lana and Adam. Recently, threw it back to his days as frontman for band The Yes Men, performing the 'Playing Mantis' on Kiwi reality singing competition The Masked Singer NZ and continues to nationally tour his stand up on a regular basis. Paul is a highly sought-after MC, and Entertainer. Impressive experience combined with his natural charisma and humour make him the perfect pick for a variety of events. Paul will always engage a crowd, and deliver a polished and entertaining performance.
Location
Auckland, New Zealand
Skills
Comedy Host, Compere/MC, Keynote Speaker, Live Performance Host, Panellist, Speech Writer
Interests
Broadcasting, Film & Television, Music, Producing, Satire, Stand up comedy
Event Highlights
| | |
| --- | --- |
| 2023 | Flooring Xtra Gala Dinner, Flooring Xtra - MC |
| 2023 | Foodstuffs VIP Supplier Event, Foodstuffs - Entertainer |
| 2023 | Pride in Print Awards, Print NZ - Duo MC with Jaquie Brown |
| 2023 | Too Many Cooks, Cancer Society - MC |
| 2022 | Big Black Sacks Conference, Big Black Sacks - Entertainer |
| 2022 | Fletcher Steel 100 Year Celebration, The Events Group - MC |
| 2022 | Future Roads Conference Dinner, Freeman Media - MC |
| 2022 | McDonalds Awards 2022, MetroXP - Entertainer |
| 2022 | Million Dollar Party, High Performance Sports & Leisure Travel - MC |
| 2022 | MTF Finance Conference, MTF Finance - MC |
| 2022 | NZ Financial Market Charity Golf Awards, Uno Loco Events & Media - MC |
| 2021 | Canterbury Jockey Club Annual Sponsors Dinner, Riccarton Park - MC |
| 2021 | ITM ASM Annual Shareholders Dinner, C&I Travel Specialists - MC |
| 2021 | Mid Year Celebration, Landmark Homes Taupo, Rotorua, Whakatane - MC |
| 2021 | NZ Plumbing Conference 2021, Master Plumbers - MC |
| 2021 | Samsung Product Launch, Uno Loco Events & Media - Panelist |
Testimonials (4)
Tania McDougall | Event Manager PrintNZ

Paul and Jaquie were fabulous! I can't believe they don't do more together. They are both so quick and witty that the banter was seamless and any adlib (which we encourage) was well received and very funny. I'd have no hesitation recommending them as an MC duo.

Pride in Print Awards 2023

PrintNZ