Profile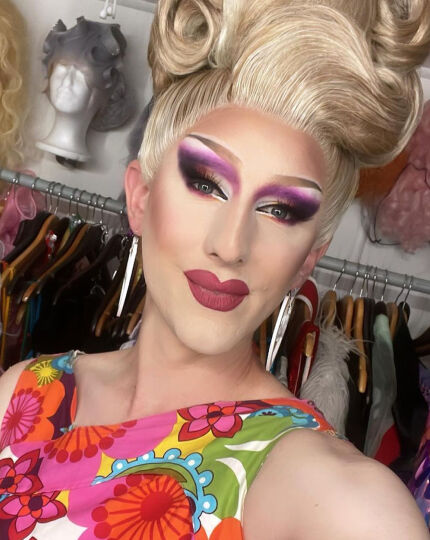 It's time to Wigl'it!
With years under her wig as an emcee, presenter and drag performer, Ms. Wigl'it is in a league of her own, both on stage and on-screen. Before exhibiting at Dragcon UK earlier this year, she endeavoured on a massive UK tour and competed in Drag Race Canada Vs The World. Known in New Zealand as a co-host and judge on TV show House of Drag, the 2021 nominee for NZ's Television Personality of the Year, and competitor in the first ever season of RuPaul's Drag Race Downunder, Anita knows how to captivate an audience. And even get them to Wigl'it.
Mission
Anita is on a mission to make the most out of everything, and do it with kindness. Anita is known by day as Nick Kennedy-Hall. Nick was severely bullied in school and denied authenticity in response. They didn't come out until they were at university, when they were suddenly introduced to people that identified as gay, who they could look up to. After years of wanting to fit in, they could finally embrace their differences; artistic, creative, kind; all of which are their strengths that lead to becoming a Drag Queen on the international stage.
Anita encourages these differences, inspiring people to live their authentic life. Success came to Anita when she was authentic to herself, and she got there with positivity and kindness. Anita is reaching her goals by following a path that allows everyone to breathe. Life can be very serious. Anita is here to find the fun, enjoy being an individual, be silly, be ridiculous, be who she wants to be, and share that.
Keynote
An absolute crowd pleaser, Anita is laid back, humorous and FUN. She is unashamed to be honest, talk about the hard topics and deliver them in her own unique way. Drawing on her personal life, adventures, failures and successes, Anita shares the many wigs she wears in drag, comedy, being a business owner, a TV personality, and a human being. She invites a level of safety with her audience, boosting creativity, connection and acceptance.
Anita loves breaking the fourth wall and offers two characters in one… with the equally mischievous, made-down Nick taking on more presenting and emceeing gigs, this multifaceted performer will bring any event to new heights. Whether it be their ability to amass a career out of something that doesn't seem like a job, their mentality on forging their own way with kindness, or their transformation from little boy to queen, Anita Wigl'it wins hearts.
Location
Auckland , New Zealand
Skills
Comedian, Compere/MC, Drag Performer, Panellist, Speaker
Interests
Business, Comedy, Diversity & Inclusion, Equality, The Arts
Speaking Topics
Being authentically yourself, Being yourself is your strongest tool, Business, Customer satisfaction, Diversity in the workplace, Equality and why it's important, How differences make a better team, Inclusivity, Lifestyle & Wellbeing, Motivational Speakers, Succeeding in times of adversity
Event Highlights
| | |
| --- | --- |
| 2023 | Lincoln University Blues & Golds Awards, Lincoln University - MC |
Testimonials (2)
Jovita Stellmacher | Human First Partner

It is an absolute delight knowing and working with Anita! We first met Anita three years ago when she joined our Pride Month celebration and she has been part of our whānau since. Not only is she extremely entertaining and has everyone in laughing fits, she is also very vulnerable and courageous with the sharing of her personal journey and why being fully inclusive of rainbow communities is so important to driving positive change within Aotearoa. I can't recommend her highly enough!

Yellow NZ Conference