Profile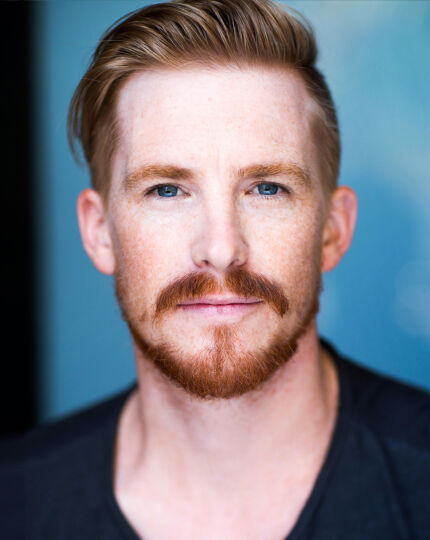 Location
Melbourne, Australia
Also Represented in
Australia & United States of America
Career Highlights

Michael is an Australian-New Zealand actor who has worked with some of Hollywood's biggest names. He has starred in Angelina Jolie's Unbroken, Adrien Brodie's Backtrack and John Maclean's Slow West (where he worked alongside Michael Fassbender and Ben Mendelsohn). In 2017, he played the pivotal lead in Australian independent feature film The Pretend One. For television, Michael appeared in Love Child for Australia's Channel 9, played 'Flynn' in the ABC US series Legend Of The Seeker, and then became a series regular in the Kriv Stenders' directed SBS series The Principal as detective Dave Santos. On screen back home in his native New Zealand, he played the lead role Beverly, in the tele-feature Jean. Michael is also a talented singer and dancer. Recently he completed a recurring role in Australian TV series Wanted Series 3 as well as a guest role in Halifax: Retribution.

Awards.
| | |
| --- | --- |
| 2018 | Best Male Actor In A Supporting Role In A Mainstage Production - HIR - Sydney Theatre Company |
| 2013 | Gluggs Award for Best New Talent for performance in "Tarantula" |
| 2008 | Most Original Production - Chapman Tripp Theatre Awards Winner - Apollo 13 : Mission Control |
| 2007 | Most Promising Male Newcomer - Chapman Tripp Theatre Awards - |
Short Film.
2016
Grave Attempt
Brian
Dir.

Ryan O'Kane

2016
Jump
Jogger
Dir.

Ryan O'kane

2016
Second best
Kev
Dir.

Alyssa McClelland

2014
Crumble
Fraser
Goldhawk Productions
Dir.

Georgiana Taylor

2008
Birdwatcher
Matt (Lead)
Rubber Monkey
Dir.

Nathan Meister

2005
Bad Dates
Todd Burkleigh
Granite Films
Dir.

Grant La Hood

2002
The other side of the Moon
Ants
Dir.

Andrea Bosshard
Short Film.
2015
Dayfire
Craig
Dir.

Ngaire O'Leary
Feature Film.
2014
Backtrack
Constable Samuels
Backtrack Productions
Dir.

Michael Petroni

2014
Unbroken
Stanley Pillsbury
Dir.

Angelina Jolie

2013
Psychoanalysis
Ryan
Dir.

James Raue

2013
Slow West
The Kid (Support)
See Saw Films
Dir.

John Maclean

2009
Matariki
Jermaine (Lead)
Filmworks Ltd
Dir.

Michael Bennet

2006
Out of the Blue
Darren Gibbs (Lead)
Southern Light Films
Dir.

Robert Sarkies

2006
Out of the Blue
Darren Gibbs
Dir.

Robert Sarkies

2005
Eagle vs Shark
Hoon (Supporting Role)
Whenua Films
Dir.

Taika Waititi

2005
Lord of the Rings
ORC
Dir.

Dir: Peter Jackson

2001
Lord of the Rings
Orc
Newline Cinema & Wingnut Films
Dir.

Peter Jackson
Television.
2021
Real Life Fights
Liam
Dir.

Jessica Grace Smith

2019
Halifax: Retribution
Mitch Marcovic
Dir.

Mark Joffe

2018
Wanted - S-3
Lance Greiner
Matchbox Pictures/Netflix
Dir.

Various

2016
Jean - Tele Feature
Beverley (Major Support)
Lippy Pictures
Dir.

Robert Sarkies

2014
Love Child S-2
Arthur
Playmaker Media (AU)
2014
The Principal
Dave
Essential Media & Entertainment
2013
Field Punishment No.1 (Tele Feature)
William Little (Major Support)
Lippy Productions Limited
Dir.

Peter Burger

2013
Wonderland
Homeless Tony
Freemantle Media
2012
Pirates of the Airwaves (Documentary Drama Film)
Doc O'Callahan (Lead)
Lippy Productions
Dir.

Charlie Haskell

2010
Paradise Cafe Series 2
Max - The Surfer (Support)
The Gibson Group
2009
Legend of the Seeker
Flynn (Reaccuring Guest)
Walt Disney Company
2008
NZTA Four Mates Campaign
Jason
Dir.

Peter Burger

2007
Facelift
Police Recruit - Anti Smacking Squad Leader
Gibson Group
2007
Killian's Curse
Stan
TVNZ
Dir.

Thomas Robins

2007
Time Hackers
Mutthead
Gibson Group
Dir.

Thomas Robins

2006
Karaoke High
Tom Winston (Core Cast)
TVNZ
2003
The Tribe
Techno Commander
Cloud 9
Theatre.
2020
Harry Potter & the Cursed Child
Ron Weasley (Lead)
Dir.

John Tiffany

2019
Astral Plane
Sam
Dir.

Charlie Garber

2017
HIR
Isaac Connor
Belvoir St Theatre
Dir.

Anthea Williams

2017
Muriel's Wedding
Perry Heslop
Dir.

Simon Phillips

2016
There will be a Climax
Nida
Dir.

Alex Berlage

2016
Tiny Remarkable Bramble
Doug
King's Cross Theatre
Dir.

Cathy Hunt

2016
You're a Good Man, Charlie Brown
Charlie
Hayes Theatre
Dir.

Shaun Rennie

2015
Blue Angel
The Academic / Saxon Seafarer John
Big hART
Dir.

Scott Rankin

2015
Cock
John
Red Line Productions / Mardi Gras Festival
2015
Edward II
Gaveston
Sport for Jove Theatre
Dir.

Terry Kerabelos

2015
The Front
Keith
Adelaide Cabaret Festival
Dir.

Andy Packer

2014
Hipbone Sticking Out
Performer
Dir.

Big hART / Yala Project

2013
Songs of the Fallen
Performer
Critical Stages
Dir.

Michael Seiders Presents

2013
The Importance of Being Earnest
John Worthing
Burley Theatre
2012
An Officer and a Gentleman
Craig/ Sid Worley Cover (Lead)
GFO Australia
Dir.

Simon Phillips

2012
Tarantula
Terry
Tredwood Productions
Dir.

Nasstasja Djalog

2011
Skin Tight
Tom
45 Downstairs Theatre & presented by SAYSIX Theatre and The Groundswell Division
Dir.

Justin Martin

2011
The Threepenny Opera
Ensemble
A Malthouse Theatre & Victorian Opera Co-Production-Presented by Sydney Theatre Company
Dir.

Michael Kantor

2010
Romeo & Juliet
Romeo (Lead)
Auckland Theatre Company Limited
Dir.

Willem Wassenaar

2009
She Stoops to Conquer
Tony Lumpkin (Lead)
Auckland Theatre Company
Dir.

Michael Hurst

2009
Te Karakia
Matt (Lead)
Taki Rua Theatre Company
Dir.

David O'Donnel

2008
Apollo 13 : Mission Control
Michael Whallen (Lead)
Hackman
Dir.

Kip Chapman

2008
The Man that Lovelock Couldn't Beat
Jack Lovelock (Lead)
Circa Theatre
Dir.

Conrad Newport

2007
High School Musical
Troy Bolton (Lead)
Wellington Musical Theatre
2007
I'm Not Rappaport
Gilley
Downstage Theatre
Dir.

Steven Ray

2007
Jack & the Beanstalk
Jack (Lead)
Circa Theatre
Dir.

Susan Wilson

2007
The Cape
Mo (Lead)
Circa Theatre
Dir.

Conrad Newport

2006
The Glass Menagerie
Tom Wingfield (Lead)
Circa Theatre
Dir.

Willem Wassennar

2006
The Goat or Who is Sylvia
Billy
Downstage Theatre
Dir.

Catherine Downes

2005
Jack Manning - Face to Face
Luka (Lead)
New Zealand Drama School Productions
Dir.

KC Kelly

2005
Wednesday to Come
Cliff
Downstage Theatre
Dir.

Geraldine Brophy

2004
Great Expectations
Herbert Pocket
New Zealand Drama School Productions
Dir.

Miranda Harcourt & Tom McCrory

2004
Pericles
Pander/Pirate
New Zealand Drama School Productions
Dir.

Peter Hambleton

2004
Westside Story
Riff
Dir.

Alan Marsden

2003
Midsummer Nights Dream
Lysander
Dir.

Carmel McGlone
Voice.
2009
AMP Commercial
Lead Voice
2007
Chute Thru
Narrator
Childrens Novel
2006
Caltex
Lead male voice
2006
Children's Stories
Narrator
2006
Conflict of Interest
Various
Dir.

Hone Kouka

2006
Terror at Tinakori Road
Billy
2005
LTSA Radio Ad
Male Voice
2005
Various Children's Stories for CD ROM
Narrator
Learnig Media Ltd
Training.
Bachelor of Performing Arts, NZ - 2003, Toi Whakaari : New Zealand Drama School
Diploma in Acting for Theatre, Film & Television - 2001, Wellington Performing Arts Centre