Profile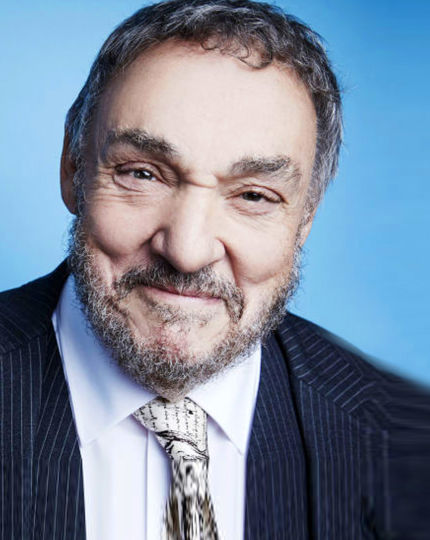 Location
Hamilton, New Zealand
Also Represented in
United States of America
Career Highlights
John Rhys-Davies is one of modern cinema's most recognizable character actors. While best known as Gimli in LORD OF THE RINGS, or as Indiana Jones' (Harrison Ford) comic sidekick, Sallah, in two of Paramount's INDIANA JONES adventure films, John has appeared in over 150 television shows and films since the early '70s. He has built an impressive onscreen career, especially for a stage actor who once swore that he would never perform in front of a camera.
Conceived, his mother assured him, in Wales he was actually born in Salisbury during an air raid: "Good God Rhys!" his mother said to his father, "they're going to bomb the gasworks!" (May 1944)

John grew up in England, Wales, and East Africa. Sent to Truro School in Cornwall, he played Ulysses in Troilus and Cressida, Ben Johnson's Volpone, and Othello. He was one of the first 107 students at the University of East Anglia in Norwich, where he founded the Drama Society, and also played starring roles at the local Maddermarket Theatre. He even gained his first TV credit, playing Sir John Oldcastle and Sir John Falstaff for Anglia TV.

Upon graduating, John worked briefly as a schoolteacher before gaining a place at London's Royal Academy of Dramatic Art. He left RADA on Sunday 29th July 1979 after a show, and started work at 10am the following morning at the Belgrade Theatre, Coventry, under the directorship of Warren Jenkins. Eleven years of repertory theatre followed, including a couple of seasons at the RSC. He has performed in about 90 plays. His theatrical credits include roles in Shakespeare's MERRY WIVES OF WINDSOR, TIMON OF ATHENS, THE TEMPEST, HAMLET, MACBETH, and HENRY THE FOURTH, Ibsen's HEDDA GABLER, and Moliere's THE MISANTHROPE.

John was 28 when he made his first regular television series appearance in 1972 as Laughing Spam Fritter in the BBC's BUDGIE, a comedy starring former British pop star Adam Faith as an amusing ne'er-do-well. In 1975, he joined John Hurt in the cast of the television show THE NAKED CIVIL SERVANT, which chronicled the rich life of Quentin Crisp. Three months later, John re-teamed with Hurt, as well as Derek Jacobi and Patrick Stewart, for the BBC's unforgettable three-part adaptation of Robert Graves' I, CLAUDIUS and CLAUDIUS THE GOD. Titled I, Claudius, the television miniseries appeared on PBS's Masterpiece Theater and gave American audiences their first glimpse of the actor. He subsequently starred as Vasco Rodrigues in NBC's adaptation of James Clavell's SHOGUN, which told the adventures of an English sailor stranded in Japan during the early 17th century.
John's performance earned him both an Emmy nomination and the attention of directors Blake Edwards and Steven Spielberg. Blake cast him in VICTOR/VICTORIA with Julie Andrews, James Garner, Robert Preston, Leslie Ann Warren, and former pro-football player Alex Karras. A few months later, Spielberg cast him as the comic, fez-wearing Sallah in RAIDERS OF THE LOST ARK, the first installment of the Indiana Jones movies. The film was an instant success and John's comedic skill made Sallah an audience favorite.

For the next two decades, the actor worked on numerous films and television shows and made memorable guest appearances on CHIPS, THE SCARECROW AND MRS. KING, MURDER, SHE WROTE, PERRY MASON, TALES FROM THE CRYPT, STAR TREK: VOYAGER, and THE SECRET ADVENTURES OF JULES VERNE. In 1982, he portrayed Front de Boeuf in the television adaptation of Sir Walter Scott's IVANHOE that starred James Mason and Sam Neill. In 1985, he was re-united with Richard Chamberlain in KING SOLOMON'S MINES, survived a light plane crash which nearly cost him his leg, co-wrote and starred in the safari adventure film TUSKS.

In 1986, he played the Russian General Pushkin in the first Timothy Dalton James Bond film THE LIVING DAYLIGHTS. 1989 saw John playing Joe Gargery in the Disney Channel's adaptation of Dickens' GREAT EXPECTATIONS, starring in the miniseries version of WAR AND REMEMBRANCE with Robert Mitchum, David Dukes, and Jane Seymour, and returning as Sallah in INDIANA JONES AND THE LAST CRUSADE.

In 1991, John hosted the documentary ARCHAEOLOGY. In 1993, he signed onto the series THE UNTOUCHABLES, based on Brian De Palma's hit film. The show was short-lived and then in 1995 John returned to US television with SLIDERS starring opposite Jerry O'Connell. The sci-fi venture accrued a rather large fan base and audience members were openly upset when John's character, the bombastic Professor Maximillian P. Arturo, left the series after only three seasons. After appearing with Damon Wayans in THE GREAT WHITE HYPE (1996), John recorded voice work for the animated films ALADDIN AND THE KING OF THIEVES (1996) and CATS DON'T DANCE (1997). The actor has done additional voice work for ANIMANIACS, BATMAN: THE ANIMATED SERIES, GARGOYLES, PINKY AND THE BRAIN, THE FANTASTIC FOUR, and THE INCREDIBLE HULK.

John has also branched out to other media, starring in video games such as WING COMMANDER III: HEART OF THE TIGER, DUNE 2000, BALDUR'S GATE: DARK ALLIANCE, and QUEST FOR GLORY IV. He is working on Chris Roberts' (Wing Commander) new game SQUADRON 42.

In 1999, John read for the minor character of Denethor in the second installment of Peter Jackson's highly anticipated three-film adaptation of J.R.R. Tolkien's THE LORD OF THE RINGS trilogy. Jackson offered him the role of the warrior dwarf Gimli, a major figure in all three pictures. As Gimli, John is utterly unrecognizable: The part required that he wear heavy facial prosthetics and perform on his knees to portray the 4'2" dwarf (the actor, himself, was then over six feet tall). The three films THE FELLOWSHIP OF THE RING (2001), THE TWO TOWERS (2002), and THE RETURN OF THE KING (2003), were shot simultaneously over an 18-month period in New Zealand. John also voices Treebeard, a computer-generated character in the second picture.

In 2001, in the midst of attending press junkets for the release of THE FELLOWSHIP OF THE RING, John began work on the Jackie Chan film HIGHBINDERS (2002). John starred opposite Gerrard Butler in the David Anspaugh directed film GAME OF THEIR LIVES (2005), the NZ film THE FERRYMAN released (2007), the Tristan Lorraine thriller 31 NORTH 62 EAST (2009), the big budgeted Mexican film LA LEYENDA DEL TESORO (2011), starred opposite Jason Statham in IN THE NAME OF THE KING (2011), SAUL: THE JOURNEY TO DAMASCUS (2014) for friend and producer Leif Bristow, and the epic revolutionary-themed film BEHIND THE MASK (2015).

John returned to US television in LADY MUSKETEER (2004) opposite Gerard Depardieu. Shot in Croatia in 2002, this film nearly ended his life when a 55' long and 12' high wall and roof blew over onto him, breaking his back in five places. He is alas, no longer over 6' tall!
Subsequent work includes the mini-series REVELATIONS (2005) starring with Bill Pullman and Natascha McElhone, and in the Fox pilot HIEROGLYPH (2014) for Travis Beacham. He plays Granpabbie on the hit series ONCE UPON A TIME (2015), and on the series SHANNARA based upon the epic books of Terry Brooks, he played King Evantine.

In 2016 he starred in five films including WINTER THAW an adaptation of the Tolstoy short story Martin the Cobbler, and AUX, a horror film shot in Epping Forest. As of May 2017, he has spent two months in Ohio finishing a five-month shoot for STARBRIGHT, made two short films THE INVADER'S SONG, and SHAMIRA, starred in one animated feature film, BEAST OF BURDEN, attended three fan conventions, and co-produced a documentary in Malta with his friend Philip Glassborow.

John 's film work includes all genres, as does his voice work. He has narrated for the Nova Scotia Symphony Orchestra, the German heavy metal group "Metall a Capella," and co -starred with the opera singer Deborah Voight in the Mormon Tabernacle Choir Christmas show 2015. He voices the Narrator in the ongoing recording of the Catholic Bible, plays God in the forthcoming big budget animated feature film STARLIGHT. He is very proud of THE KING JAMES BIBLE, THE BOOK THAT CHANGED THE WORLD, directed by Norman Stone.

John has several co-producer credits, and is hoping to use the small studio he is building in the Isle of Man to make some of his own projects.

John has always written, and now feels his work is ready to be shared. He is marketing an original series that he believes will change the way we look at ourselves. He is editing a book he has commissioned on the life of his friend weightlifter Precious McKenzie. He hopes to finish a series of poems he began fifty years ago on the relationship of Penelope and Odysseus.

Six years ago John was invited to voice an appeal for Hospice Isle of Man. To date it appears to have raised £5-6 million. He has offered his services to Hospice New Zealand and hopes for a similar result.
John is proud to be on the Advisory Council of the Planetary Society. He has read New Scientist since it was first published in the 50's. He is a member of the Garrick Club. He misses flying light planes, deplores the arthritis that makes handling spanners painful, loves driving a digger, hopes to finish the two (or is it five) project cars when the yet to be completed workshop is ready. He loves boats, preferably with two engines. He is, arguably, the world's worst fisherman. He claims to have nearly 20,000 books, some of which he has read.

John has two grown up sons, Ben and Tom from his first marriage to his late wife Suzanne. He is now married to former journalist Lisa Manning with whom he has an 11-year-old horse-mad daughter Maia. The actor officially resides in both New Zealand and the Isle of Man, and in airport lounges around the world. He says that no man who can recite his Frequent Flyer numbers can be regarded as totally sane.

He has an honorary D.Litt. from the University of East Anglia.


Film Film.
2021
Bad Cupid
Archie
Luv Hurtz LCC (US)
Dir.

Diane Cossa & Neal Howard

2020
G-Loc
Henry
Goldfinch
Dir.

Tom Paton

2020
Grizzly ll: Revenge
Bouchard
GBGB International
Dir.

Andre Szots

2020
I AM PATRICK
Old Patrick
NorthStar Studios (US)
Dir.

Jarrod Anderson

2020
Moments in Spacetime
Mason
Kinosoo Films
Dir.

Chris Cowden

2020
Shadowtown
Einar
Artio Films
Dir.

Jon Einarsson Gustafsson & Karolina Lewicka

2020
Tainted
Vladimir
Cote Entertainment
Dir.

Brent Cote

2019
Mosley
Warnie (Voice )
Huhu Studios
Dir.

Kirby Atkins

2019
Pilgrim's Progress
Evangelist
Cat In The Mill Studio (US)
Dir.

Robert Fernandez

2019
Santa Fake
Joe O'Brian
Dirt Floor Revival
Dir.

J.M. Burris

2019
Valley of the Gods
Dr Hermann
Royal Road Entertainment
Dir.

Lech Majewski

2018
Aux
Jack + Executive Producer
Evolutionary Films
Dir.

John Adams

2018
Starbright
Raphael
Dir.

Francesco Lucente

2017
Camera Store
Pinky Steuben
Dir.

Scott Marshall Smith

2016
Winter Thaw
Martin Avdeitch
Dir.

Adam Thomas Anderegg

2015
Beyond the Mask
Charles Kemp
Dir.

Chad Burns

2015
Golden Shoes
Burt
Dir.

Lance Kawas

2015
To Have and to Hold
Governor Yeardly
Dir.

Ray Bengston
Short Film.
2019
The Invader's Song
Father
Brew Films
Dir.

Emma Swinton

2018
Ellston Bay
Father + Executive Producer
Fact Not Fiction Films
Dir.

Nicholas Eriksson

2018
Shemira
Myer
Gotgotneed
Dir.

Adam Wells

2017
Shemira
Myer
Dir.

Adam Wells (XIX)
Voice Film.
2018
Aquaman
Brine King (Voice )
Warner Bros
Dir.

James Wan
Feature Film.
2010
Return to the Hiding Place
Eusi
10 West Studios
Dir.

Peter C. Spencer

2010
Sophie
Alistair Winston
Knightscove Entertainment
Dir.

Leif Bristow

2009
31 North 62 East
John Hammond
Fact Not Fiction Films
Dir.

Tristan Loraine

2009
Anaconda 4: Trail of Blood
Murdoch
Sony Pictures Home Entertainment
Dir.

Don E. FauntLeRoy

2009
Medium Raw: Night of the Wolf
Elliot Carbon
Fantastic Films International
Dir.

Andrew Cymek

2009
Prisoners of the Sun
Prof. Hayden Masterton
Cinemakers & Miromar Entertainment
Dir.

Roger Christian

2008
Anaconda III
Murdoch
Hollywood Media Bridge
Dir.

Don E. FauntLeRoy

2008
Fire & Ice
Sangimel
Media Pro Pictures
Dir.

Pitof

2008
Kiss Me Deadly
Yale Ericson
Regent Entertainment
Dir.

Ron Oliver

2007
In The Name Of The King: A Dungeon Seige Tale
Merick
Brightlight Pictures
Dir.

Uwe Boll

2007
The Ferryman
The Greek
Atlantic Film Productions
Dir.

Chris Graham

2006
One Night With The King
Mordecai
Gener8Xion Entertainment
Dir.

Michael O. Sajbel

2006
Shark Bait
Thorton (Voice)
Digiart Productions
Dir.

Howard E. Baker

2006
Tainted Love
Underwood
Mad Mile Projects
Dir.

R. Dani

2005
Chupacabra Terror
Captain Randolph
Regent Entertainment
Dir.

John Shepphird

2005
Shadows in the Sun
Mr. Benton
Studio Eight Productions & Backup Films
Dir.

Brad Mirman

2005
The Game Of Their Lives
Bill Jeffrey
Bristol Bay Productions
Dir.

David Anspaugh

2005
The King Maker
Phillippe
Alpha Beta Films International
Dir.

Lek Kitaparaporn

2004
12 Days Of Terror
Captain
Discovery Channel & Orly Adelson Productions
Dir.

Jack Sholder

2004
Dragon Storm
King Fastrad
Equity Pictures Medienfonds
Dir.

Stephen Furst

2004
La Femme Musketeer
Porthos
Hallmark Entertainment
Dir.

Steve Boyum

2004
The Lost Angel
Father Kevin
4 Square Productions
Dir.

Dimitri Logothetis

2004
The Princess Diaries 2: Royal Engagement
Viscount Mabrey
BrownHouse Productions & Walt Disney Pictures
Dir.

Garry Marshall

2003
Coronado
Presidente Hugo Luis Ramos
ARMS GmbH & Coronado Motion Picture LLC
Dir.

Claudio Fäh

2003
Helen Of Troy
King Priam of Troy
Fuel Entertainment
Dir.

John Kent Harrison

2003
The Lord Of The Rings: The Return Of The King
Gimli
New Line Cinema & Wingnut Films
Dir.

Peter Jackson

2003
The Medallion
Cmdr. Hammerstock-Smythe
Emperor Multimedia Group & Golden Port Productions Ltd.
Dir.

Gordon Chan

2002
Endangered Species
Police Leuitenant Wyznowski
Drotcroft Limited
Dir.

Kevin Tenney

2002
Sabretooth
Anthony Bricklin
International Film Group
Dir.

James D.R. Hickox

2002
Scorcher
Dr. Matthew Sallin
Buena Vista Home Video
Dir.

James Seale

2002
The Lord Of The Rings: The Two Towers
Gimli
Newline Cinema & Wingut Films
Dir.

Peter Jackson

2001
Never Say Never mind
Hakim
Overlode Productions
Dir.

Buzz Feitshans IV

2001
The Lord Of The Rings: The Fellowship Of The Ring
Gimli
Newline Pictures & Wingnut Films
Dir.

Peter Jackson

1999
Delta Force One: The Lost Patrol
Ivan
Frontline Entertainment Group
Dir.

Joseph Zito

1999
Secret Of The Andes
Father Claver
Semana Magica S.A.
Dir.

Alejandro Azzano

1998
The Projector
Rasheed
Crystal Sky Worldwide
Dir.

Jack Gill

1996
Bloodsport III
Duvalier
FM Entertainment International N.V.
Dir.

Alan Mehrez

1996
Glory Daze
Luther
Woodward Productions
Dir.

Rich Wilkes

1996
Marquis de Sade
Inspector Marais
AFRA Film Enterprises
Dir.

Gwyneth Gibby

1996
The Great White Hype
Johnny Windsor
Twentieth Century-Fox Film Corporation & Atman Entertainment
Dir.

Reginald Hudlin

1995
Catherine The Great
Pugachev
MR Filmproduktion
Dir.

Marvin J. Chomsky

1994
Blood Of The Innocent
Shmuda
Action Films
Dir.

Bob Misiorowski

1994
Robot In The Family
Neighbor
Dir.

Mike Richardson

1994
The High Crusade
Bruder Parvus
Centropolis Film Productions
Dir.

Klaus Knoesel

1993
Cyborg Cop
Kessel
Nu Image Films
Dir.

Sam Firstenberg

1993
Sunset Grill
Stockton
New Line Cinema
Dir.

Kevin Connor

1993
The Seventh Coin
Captain Galil
Orbit Entertainment Group
Dir.

Dror Soref

1993
The Unnamable II: The Statement of Randolph Carter
Professor Warren
Lions Gate Films
Dir.

Jean-Paul Ouellette

1992
Canvas
Nick
Optima Productions
Dir.

Alain Zaloum

1992
Perry Mason: The Case Of The Fatal Framing
Phillip Graff
Dean Hargrove Productions
Dir.

Christian I. Nyby II

1992
Return To The Lost World
Challenger
Alpha Media
Dir.

Timothy Bond

1992
South Beach
Po' Boy Productions
Dir.

Fred Williamson

1992
The Double O Kid
Rudi Von Kseenbaum
Crystal Sky Worldwide
Dir.

Duncan McLachlan

1992
The Lost World
Challenger
Alpha Media
Dir.

Timothy Bond

1991
Kabuto
El Zaidan
Mayeda Productions Inc.
Dir.

Gordon Hessler

1991
Shogun Warrior
El Zaidan
Mayeda Productions Inc.
Dir.

Gordon Hessler

1990
Secret Weapon
Mossad Chief
Dir.

Ian Sharp

1990
Tusks
Roger Singh
Magnum Entertainment
Dir.

Tara Moore

1989
Desperado: Badlands Justice
Richard Marriott
Walter Mirisch Productions
Dir.

E.W. Swackhamer

1989
Indiana Jones And The Last Crusade
Sallah
Lucasfilm & Paramount Pictures
Dir.

Steven Spielberg

1989
Rising Storm
Donwaldo
Gibraltar Entertainment
Dir.

Francis Schaeffer

1989
The Gifted One
Carl Boardman
NBC Productions
Dir.

Stephen Herek

1989
The Trial Of The Incredible Hulk
Wilson Fisk
Bixby-Brandon Productions
Dir.

Bill Bixby

1988
Giovane Toscanini, Il
Claudio Rossi
Canal+ Productions
Dir.

Franco Zeffirelli

1988
Goddess Of Love
Zeus
New World Television
Dir.

Jim Drake

1988
Higher Ground
Lt. Smight
Columbia Pictures Television
Dir.

Robert Day

1988
Waxwork
Werewolf
Vestron Pictures
Dir.

Anthony Hickox

1987
Perry Mason: The Case of the Murdered Madam
Edward Tremaine
Fred Silverman Company
Dir.

Ron Satlof

1987
The Little Match Girl
Police Chief Murphy
NBC Productions
Dir.

Michael Lindsay-Hogg

1987
The Living Daylights
General Leonid Pushkin
Eon Productions
Dir.

John Glen

1986
Firewalker
Corky Taylor
Cannon Group
Dir.

J. Lee Thompson

1986
In The Shadow Of Kilimanjaro
Chris Tucker
Film Corporation of Kenya & Mansfield Productions
Dir.

Raju Patel

1984
Sword Of The Valiant: The Legend Of Sir Gawain And The Green Knight
Baron Fortinbras
Golan-Globus Productions
Dir.

Stephen Weeks

1983
Sadat
Gamal Abdel Nasser
Blatt-Singer Productions
Dir.

Richard Michaels

1983
Sahara
Rasoul
Cabal Film
Dir.

Andrew V. McLaglen

1982
Best Revenge
Mustapha
Lorimar Home Vídeo
Dir.

John Trent

1982
The Island Of Adventure
Smith
EbeFilms Ltd.
Dir.

Anthony Squire

1982
Victor Victoria
Andre Cassell
Metro-Goldwyn-Mayer (MGM)
Dir.

Blake Edwards

1981
Peter & Paul
Silas
Universal Productions
Dir.

Robert Day
Voice Acting Film.
2003
The Jungle Book II
Ranjan's father
Walt Disney Pictures
Dir.

Steve Trenbirth

2000
Sinbad: Beyond The Viel Of Mists
King Akron / Baraka
Improvision Corporation
Dir.

Evan Ricks
Short Film.
2000
The Gold Cross
Rodrigues
Dir.

Diogo Ferreira

1995
Indiana Jones And The Temple Of The Forbidden Eye
Sallah
Walt Disney Productions
Film.
| | | | |
| --- | --- | --- | --- |
| 1987 | Predator: The Concert | The Mountain Man | Film Ventures International (FVI) |
Feature Film.
1985
King Solomon's Mines
Dogati
Cannon Group
Dir.

J. Lee Thompson

1981
Indiana Jones And The Raiders Of The Lost Ark
Sallah
Lucasfilm & Paramount Pictures
Dir.

Steven Spielberg
Television.
2020
Wizards
Galahad / Old Galahad (Voice )
Double Dare You
2019
Show Offs
Performer (Performer )
Kaleidoscope Pictures
2018
Fresh Eggs
Cutter
Dir.

Britta Hawkins, Peter Salmon & Jackie Van Beek

2018
Young Math Legends
Ship Captain
Sphere World Productions
Dir.

Dano Johnson

2016
The Barefoot Bandits
Captain Cragglechin (Voice )
Muckpuddy Animation
2016
The Lion Guard
King Sokwe (Voice )
Disney Television Animation
2016
The Shannara Chronicles
Eventine
Farah Films
2015
Harvey Beaks
Britney (Voice) / Elder Bug (Voice) (Voice )
2015
Killing Jesus
Annas
Dir.

Christopher Menaul

2015
The Adventures of Puss in Boots
Goodsword (Voice) (Voice )
DreamWorks Animation Television
Dir.

Johnny Castuciano

2015
The Red Dress
Angelo
Dir.

Leif Bristow

2015
TripTank
Caller / Wavy Arm Blowy Guy / Priest / King / Squirrel / Cyclops (Voice )
ShadowMachine
2014
Hieroglyph
Vocifer
20th Century Fox Television & Chernin Entertainment
2014
Metal Hurlant Chronicles
Holgarth
Dir.

Gyillaune Lubrano

2014
Once Upon a Time
Grand Pabbie
2014
Once Upon a Time: Storybrooke Has Frozen Over
Narrator (Voice )
2014
Under Milk Wood
Voice
Dir.

Pip Broughton

2009
Krod Mandoon And The Flaming Sword Of Fire
Grimshank
Hat Trick Productions
Dir.

Alex Hardcastle

2007
Takezo Kensei: Sword Saint
Narrator
Yamagato Fellowship
2005
Revelations
Professor Lampley
NBC Enterprises & Stillking Films
2002
Peak Practice
Mike King
Central Independent Television
Dir.

Gary Wicks

2000
Britannic
Captain Barrett
Britannic Productions Ltd.
Dir.

Brian Trenchard-Smith

2000
The Secret Adventures Of Jules Verne
Alexandre Dumas
Filmline International
Dir.

Mark Roper

1999
Au Pair
Nigel Kent
Saban Entertainment
Dir.

Mark Griffiths

1998
Dune 2000
Noree Moneo
Westwood Studios Inc.
Dir.

Joseph D. Kucan

1997
Freakazoid
Professor Beasthead
Amblin Entertainment
Dir.

Ronaldo Del Carmen

1997
Star Trek: Voyager
Leonardo do Vinci
Paramount Television
1997
You Wish
Madman Mustapha
Touchstone Television
Dir.

David Trainer

1996
The Incredible Hulk
Thor
Marvel Enterprises & Genesis Entertainment
1995
Sliders
Professor Maximilian Arturo
St. Clare Entertainment
Dir.

Richard Compton

1994
A Mind To Kill
Roderick Tate
Lluniau Lliw & 4L Productions
Dir.

Peter Edwards

1993
The Untouchables
Agent Michael Malone
Paramount Television
Dir.

Vern Gillum

1992
Ring Of The Musketeers
Maurice Treville
Dir.

John Paragon

1991
Before The Storm
Flynn
Dir.

Michael Fresco

1991
I Misteri Della Giungla Nera
O'Connor
Dir.

Kevin Connor

1991
Tales From The Crypt
Duval
HBO
1991
The Strauss Dynasty
Gribov
ECA Partiners
Dir.

Marvin J. Chomsky

1991
Under Cover
Flynn
ABC
1990
Secret Weapon
Mossad Chief
LK-TEL Vídeo
Dir.

Ian Sharp

1989
Desperado: Badlands Justice
Richard Marriott
Walter Mirisch Productions
Dir.

E.W. Swackhamer

1989
Great Expectations
Joe Gargery
Walt Disney Television
Dir.

Kevin Connor

1988
Murder She Wrote
Harry Mordecai
Universal Television
1988
Noble House
Quillan Gornt
De Laurentiis Entertainment Group (DEG)
Dir.

Gary Nelson

1988
War And Remembrance
Sammy Mutterperl
ABC Circle Films
Dir.

Tommy Groszman

1984
Crown Court
Deakins
Granada Television
Dir.

John Foster

1984
Kim
Babu
London Film Productions
Dir.

John Howard Davies

1984
Nairobi Affair
Simon
CBS
Dir.

Marvin J. Chomsky

1984
No Man's Land
Grimshaw
Warner Bros. Television
Dir.

Rod Holcomb

1984
Robin Of Sherwood
King Richard
Goldcrest Films International
1983
Reilly: Ace Of Spies
Tanyatos
Euston Films
1982
Chips
Nakura
MGM Television
1982
Ivanhoe
Front de Boeuf
Columbia Pictures Television
Dir.

Douglas Camfield

1982
The Quest
Sir Edward
Stephen J. Cannell Productions
Dir.

Rod Holcomb
Voice.
2017
Stardome Observatory and Planetarium
Narrator (Narrator )
2017
The Barefoot Bandits Series 2
Captain Cragglechin McScuttlebutt
Mukpuddy Animation Limited
Dir.

Ryan Cooper

2015
The Barefoot Bandits
Captain Cragglechin McScuttlebutt
Mukpuddy Animation Limited
Dir.

Ryan Cooper

2012
Missing Christmas
Santa
Mukpuddy Limited
2006
Super Robot Monkey Team Hyperforce Go
Commander
Walt Disney Television
2006
The Legend of Sasquatch
Ranger Steve
Gorilla Pictures
2006
The Lord Of The Rings: Battle For Middle Earth II: Rise Of The Witch King
Gimli
Electronic Arts
Dir.

Jill Donald

2004
Catching Kringle
Santa
Animax Entertainment & Jellyman Productions
Dir.

Jeff Wadlow

2004
The Lord Of The Rings: The Third Age
Gimli
Electronic Arts
2003
Freelancer
Richard Winston Tobias, Esq
Digital Anvil
Dir.

Carole Ruggier

2003
Lords Of Everquest
Lord Huigar
Rapid Eye Entertainment
2003
Vlad
Narrator
Quantum Entertainment
Dir.

Michael D. Sellers

2002
Fillmore!
Lenny
Walt Disney Television Animation
2002
House Of Mouse
Oberon
Walt Disney Television
2002
Justice League
Lord Hades
Warner Bros. Animation
Dir.

Dan Riba

2001
Forgotten Realms: Baldurs Gate - Dark Alliance
Jhereck
Black Isle Studios
2000
SpongeBob SquarePants
ManRay
United Plankton Pictures
1999
Mickey Mouse Works
Oberon
Walt Disney Television Animation
Dir.

Tony Craig

1998
Pinky And The Brain
Narrator
Warner Bros. Television Animation
Dir.

Barry Caldwell

1997
Cats Don't Dance
Woolie Mammoth
Turner Feature Animation
Dir.

Mark Dindal

1996
Boo To You Too! Winnie The Pooh
Narrator
Walt Disney Television Animation
Dir.

Rob LaDuca

1996
Duckman: Private Dick/Family Man
The Sultan of Dendron
Klasky-Csupo Productions
1996
Gargoyles: The Goliath Chronicles
Macbeth
American Broadcasting Company (ABC)
Dir.

Charles E. Bastien

1996
Ripper
Vigo Haman
Take2 Interactive
Dir.

Phil Parmet

1996
Wing Commander IV: The Price Of Freedom
Sen. James Paladin Taggart/Con
Origin Systems Inc.
Dir.

Chris Roberts

1995
Aladdin And The King Of Thieves
Cassim/King of Thieves
Walt Disney Television Animation
Dir.

Tad Stones

1995
Fantastic Four
Thor
Marvel Productions
1995
Gargoyles
Macbeth
Walt Disney Television Animation & Buena Vista Television
Dir.

Yeun Young Sang

1995
Mortal Kombat: Defenders Of The Realm
Asgarth
Film Roman Productions
Dir.

Michael Goguen

1994
A Flintstones Christmas Carol
Charles Brickens
Turner Home Video
Dir.

Joanna Romersa

1994
Quest For Glory IV: Shadow Of Darkness
Narrator
Dir.

Corey Cole

1994
Shadow Of Darkness
Narrator
1994
Wing Commander III: Heart Of The Tiger
Gen. James Paladin Taggart/Prince Thrakhath nar Kiranka
1993
Animanics
Tympannini
Amblin Entertainment
Dir.

Peter Bonerz

1992
Batman
Baron Waclaw Jozek
Warner Bros. Animation
Dir.

Kevin Altieri

1991
Tales From The Crypt
Duval
Home Box Office (HBO)
1991
The Pirates Of Dark Water
Hanna-Barbera Productions