Profile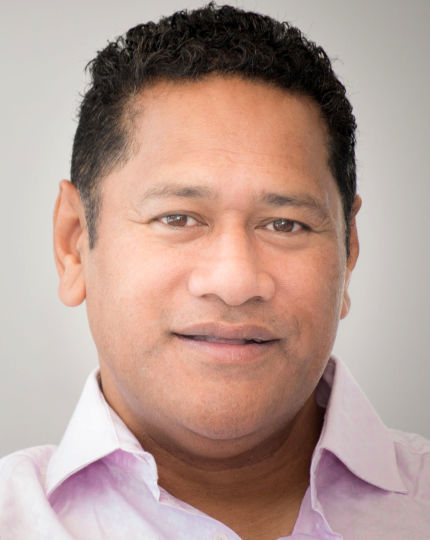 Location
Sydney, Australia
Also Represented in
Australia
Career Highlights
Best Actor Television Series-Street Legal-NZ TV Guide Awards
Nominated for Best Actor-Street Legal-New Zealand Television Award
Home and Away (TVD)
Seven Network/Australia
Role: Rev.Elijah Johnson
Daybreakers (FF)
Role: Senator Turner Director: Michael Peter Spierig
Star Wars - Episode III (FF)
Lucas Films Ltd
Role: Captain Typho Director: George Lucas
The Lion King (Theatre)
Disney Theatrical Productions / Australia
Role: Mufasa Director: Julie Taymor
Awards.
| | |
| --- | --- |
| 2007 | Sydney Theatre Award For Best Production For Children |
| 2003 | Best Actor Television Series - Street Legal - NZ TV Guide Awards |
| 2002 | Nominated for Best Actor - Street Legal - New Zealand Television Awards |
| 2002 | The Bolinda Rave Review Award For Narration of "The Whale Rider" |
Short Film.
2016
The Spa
Ivan
Dir.

Will Goodfellow
Film Film.
2013
The Wiggles: Go Santa Go!
Jay the Elf
Dir.

Anthony Field (I) / Paul Field (I)

2012
The Unbroken
Morgan Stevens (Voice)
Dir.

Jason Murphy (II)

2008
Zombies! Zombies! Zombies!
One-Eyed Zombie
Dir.

Jason Murphy (II)
Feature Film.
2008
Daybreakers
Senator Turner
Furst Films
Dir.

Michael Peter Spierig

2008
Nims Island
Helicopter Pilot (Support Role)
Walden Media
Dir.

Jennifer Flacket / Mark Levin

2006
Solo
Vincent (Lead)
Dir.

Morgan O'Neill

2003
Star Wars - Episode III
Captain Typho (Support Role)
Lucas Films Ltd
Dir.

George Lucas

2002
Star Wars - Episode II
Captain Typho (Support Role)
Lucas Films Ltd
Dir.

George Lucas

1988
Navigator
Jay
Arena Film
Dir.

Vincent Ward

1988
Never Say Die
Bruce The Cop (Support Role)
Dir.

Geoff Murphy
Short Film.
| | | | |
| --- | --- | --- | --- |
| 1995 | Malama | Ta'a | He Taonga Films |
Television.
2015
Jay's Jungle
Jay (Lead )
Dir.

Justin Schneider

2009
Home and Away
Rev.Elijah Johnson
Seven Network/Australia
2008
Legend Of The Seeker Series 1
Chaser Bradnstone (Core Cast)
Walt Disney Company/USA
2008
The Strip
Joe Tahore (Guest)
New Wave Entertainment / Channel 9 / Australia
2007
Bed Of Roses
Nick Pickering (Lead)
Southern Star Number 2 / ABC
2007
McLeods Daughters
Gabriel (Guest)
Millennium Productions
1999
Green Sails
Mau (Lead)
Chrisdan Pty Ltd
Dir.

Whitney Ransick

1998
Street Legal Series 1-4
David Silesi (Pivitol Lead )
Screenworks Ltd
Dir.

Chris Bailey

1998
Tales Of The South Seas
Warrior (Guest)
Village Roadshow Productions
Dir.

Ian Barry, Donald Crombie

1997
Violent Earth
Jean Christian (Supporting Role)
Crawford Productions
Dir.

Michael Offer

1995
The Mysterious Island
Tenape (Reaccuring Guest)
Tasman productions Ltd - New Zealand/Canadian Co-Prod
1995
Water Rats
Tommy (Lead)
Quicksilver Productions
1995
Xena Warrior Princess Series 1 - 3
Draco (Reaccuring Guest)
Pacific Renaissance/USA
1993
High Tide
Walton (Guest)
Franklin Waterman Entertainment, USA/Isambard's Straight Throw ltd, NZ
1993
Marlin Bay
Sete
South Pacific Pictures
1993
Solider Soilder
Gilligan
South Pacific Pictures / Central Uk
Dir.

Ian Mune / Tony Garner

1992
Late For School
Mana
Network Ten Australia
1992
The Further Adventures of The Black Stallion
Derek
Isambard's Straight Throw Ltd / Alliance Productions Canada / Atlantique - France
1991
Otherside of Paradise
Mana
Grundy / South Pacific Pictures / Central Television
1988
Arcadia Factor
Demo Worker
Television New Zealand
1988
Gloss
Simon
Television New Zealand
1988
Open House
Lead
Television New Zealand
1988
Strangers
Constable Locie Campbell
Television New Zealand
1988
The Civic
Performer
Television New Zealand
1984
Heroes: Series 1 and 2
Ron Ualesi (Lead)
Television New Zealand
Presenter.
2002
Breakfast Radio Host Mai FM
Co-Host
2001
TV2 Big Time
Co-Host
Satellite Productions
2000
Starstruck
Presenter
Channel 9
Dir.

Chris Hampson

2000
Surprise Surprise
Presenter
Channel 9 Network
1999
Play School
Presenter
ABC TV Australia
1999
Robot Wars
Presenter
Channel 9
Dir.

Rory Callaghan

1991
Cyclone Ofa
Presenter
Television New Zealand
1989
Aotearoa Radio Breakfast show SJ
Host
1989
Laugh Inz
Performer/Comedian
Isambard Productions TV3
1988
Crime Watch
Presenter and translator
Television New Zealand
1988
Telequest
Co-Presenter
Television New Zealand
1988
Theatresports
Performer
Television New Zealand
1988
Your Choice
Presenter
Television New Zealand
Theatre.
2008
Come Dance and Sing With Jay and Friends
Jay
Various Venues/NSW
2007
Jay's Place
Jay
Sydney Theatre
2007
Western Australian Symphony Orchestra
Combined Recital
2003
The Lion King
Mufasa
Disney Theatrical Productions / Australia
Dir.

Julie Taymor

1998
The New Rocky Horror Picture Show
Eddie/Dr Scott
Paul Dainty Productions
Dir.

Paul Dainty

1995
Ma Rainey's
Levee
Black Bottom Pacific Theatre
1994
Jesus Christ Superstar
Judas
Harry M Miller's Production-Australian Tour
Dir.

Richard Wherrett

1994
Jesus Christ Superstar
Simon
Harry M Miller's Production-Australian Tour
Dir.

Richard Wherrett

1993
Ladies Night Gateway
Wesley
Commercial Productions-Australian Tour
Dir.

Gary Down

1993
Threepenny Opera
Macheath
Inside Out Theatre
1988
The Island
Athol Fugard
Mercury Theatre
1988
Woza Albert
Mercury Theatre
1985
The Rink
Various
Mercury Theatre
1985
Westside Story
Chino
1984
Pirates of Penzance
Pirate
Mercury Theatre
1984
Sweet Charity
Mercury Theatre
Voice.
2009
Guardians Of Ga'Hoole
Twilight
Dir.

Zack Snyder

2009
Larry The Lawnmower
Narrator
Ambiance Entertainment/Seven Network
2007
Whale Rider
2007
Whale Rider Audio Book
Reader
2002
Mai FM
Breakfast Radio Host
1989
Aotearoa Radio
Breakfast Role DJ