Profile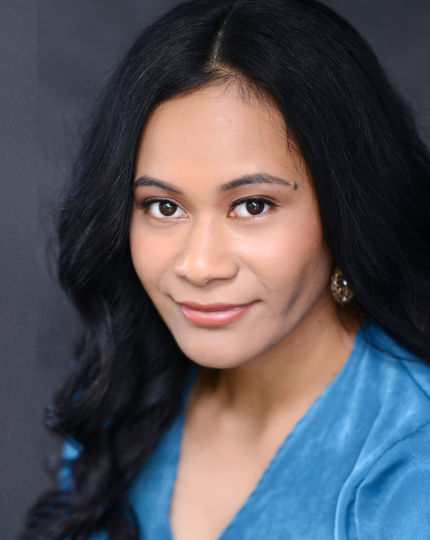 Location
Auckland, New Zealand
Career Highlights
Gaby is a Samoan-New Zealand actress who makes up one third of hilarious, sassy leading ladies in the hugely successful Pasifika comedy central show SIS. Before this, Gaby had appeared in films One Thousand Ropes and Loop Track, along with featuring as a core cast member on web series Housewives and Baby Mama's Club. Gaby's stage credits include Tales of a Princess and UPU, which was performed as a part of the Auckland Arts Festival.
Film Film.
2020
Loop Track
Talia (Supporting)
Dir.

Tom Sainsbury
Feature Film.
2016
One Thousand Ropes
Elena (Support)
Blueskin Films Ltd
Dir.

Tusi Tamasese
Television.
2023
Double Parked
Bank Teller (Guest)
Dir.

Chris Parker

2021
Know your Roots: Season 3
Self (Host)
Dir.

Tuki Lumea

2020
Sis
Miki (Lead)
Comedy Central
Dir.

Hanelle Harris

2020
Teine Sa
Ula (Supporting)
Tikilounge Productions
Dir.

Miki Magasiva, Anapela Polataivao
Presenter.
2020
Fresh TV
Host (Lead)
TVNZ
Dir.

Mario Faumui
Theatre.
2021
Things That Matter
Ana
Auckland Theatre Company
Dir.

Anapela Polatai'vao

2020
UPU - Auckland Arts Festival
Ensemble Cast (Core Cast)
Silo Theatre
Dir.

Fasitua Amosa

2019
Tales of a Princess
Linita (Core)
Tales from the Kava Bowl Productions
Dir.

Shadon and Amelia Meredith

2018
Sina and the Eel -
Director
Auckland Theatre Company
Dir.

Gaby Solomona

2017
My Own Darling
Grit-Girl/The Patron (Supporting)
Auckland Theatre Company
Dir.

Mia Blake/Anapela Polataivao

2016
Puzzy
Various Characters
FCC productions
Dir.

Anapela Polataivao
Web Series.
2021
"I Got You" Vertical series for Instagram/Tik Tok Funded by NZOA
Laura
Dir.

Stallone Vaiaoga-Ioasa

2019
Housewives
Angel (Lead)
TVNZ/Coconet TV
Dir.

Mario Faumui

2017
Baby Mama's Club
Miki (Supporting)
TVNZ
Dir.

Hanelle Harris