Profile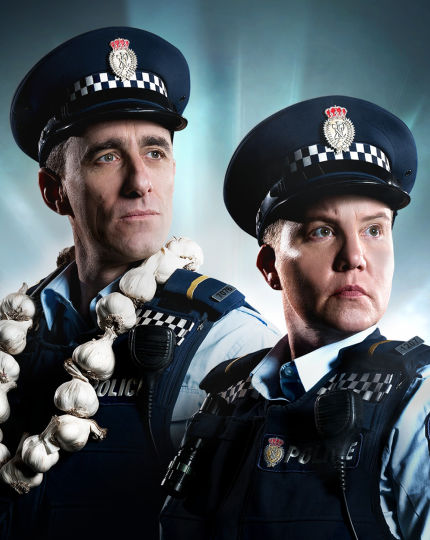 MC's/ TV personalities and Reality/Entertainment Hosts
Officers Minogue and O'Leary first came to the world's attention in the documentary feature film What We Do in the Shadows created by Taika Waititi and Jemaine Clement. This led to them getting their own hit television series Wellington Paranormal, a cross between Police 10/7 and The Office, which screened in New Zealand and Australia to critical and audience acclaim in 2018. With Season 2 about to commence shooting we can expect to see these two fine Officers on our screens for a long time to come.
O'Leary and Minogue offer an extremely serious Kiwi MC-ing experience where they specifically tailor their knowledge of policing and the paranormal to each event. Minogue and O'Leary take these matters very, very seriously but for some reason audiences find them hilarious. It's very strange. But mostly funny.
Huawei Mate30 Pro New Zealand Television Awards 2019.Best Actor Award goes to;
Wellington Paranormal, produced by the NZ Documentary Board Ltd for TVNZ 2, whose lead actor Mike Minogue won Best Actor.
Location
Auckland, New Zealand
Skills
After Dinner Speaker, Compere/MC, Presenter, Public speaking and presentation - live, tv, video, Tasering
Interests
Politics, Acting, Current Affairs, LGBT, Literature / Books, Policing
Testimonials (2)
TVNZ Launch Wellington Paranormal Season 2

Mike and Karen were the most amazing talent. From the minute they arrived – in costume, they rocked their characters and interacted so well with all our guests.

They are witty, quick, hilarious and just so talented.

They had our crowd in stitches and delivered an amazing experience.

Gabrielle de Jong - TVNZ - Oct 2019