Profile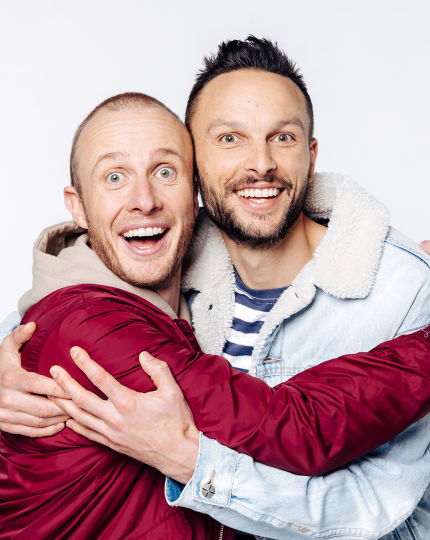 TV and Radio Personality, MC, Speaker, Writers
Jono and Ben are a hotter kiwi duo than mince and cheese in a scalding service station pie! These two best mates teamed in 2011 in a bid to entertain the nation on both TV and radio and haven't look back since.
Their "Jono and Ben" TV show ran for 7 years and was judged New Zealand's Best Comedy at the NZTV Awards. The show started out as a late night cult 10pm TV show before moving to a prime time 7.30pm slot where their sketches, pranks, stunts, interviews and other funny segments have been seen by hundreds of millions online amassing Jono and Ben a large social media following.
Jono and Ben love having a laugh (often at each other's expense) and don't take themselves too seriously and their mad antics have seen them attempting news grabbing stunts like sailing a bouncy castle across Lake Taupo, driving a bumper car for 30 hours straight and watching the Deadpool 2 movie trailer non-stop until Hollywood movie star Ryan Reynolds facetimed them – he eventually did after 27 hours!
These typical kiwi jokers have been lucky enough to hang out with some of the world's biggest stars like Justin Bieber, Ed Sheeran, Dwayne Johnson and Will Smith.
Jono and Ben are also mult-award winning radio hosts with their top rating afternoon drive shows on first The Rock FM and now you can hear them having a laugh with their mate Sharyn on The Edge FM.
Jono and Ben have twice hosted the prestigious Vodafone NZ Music Awards together as well as MC'ing many corporate awards ceremonies and functions, not to forget Jono and Ben had their own limited time "Jono and Ben" burgers and also drinks!
SPEAKER TOPICS:
Untold Stories Behind the making of Jono and Ben
Location
Auckland, New Zealand
Skills
After Dinner Speaker, Broadcaster, Comedy Host, Compere/MC, Live Performance Host, Professional Speaking, Radio Host, Television Presenter
Interests
Broadcasting – Radio/TV, Comedy, Current Affairs, Music, Politics, Pop Culture, Quiz Shows, Satire, Sport, Travel
Testimonials (2)
Anna Archer, Senior Live Experience Manager, Spark

Jono and Ben emceed our annual awards dinner - the second year in a row. They did such a good job the first time round, our CEO asked them to return before the night was through!

Jono and Ben are ultimate professionals. They took the time to understand our brief, our audience and our expectations. And, they definitely didn't disappoint. They both went above and beyond, creating videos and skits to add to the experience for our guests. They created consistent 'laugh out loud' moments which were so well received.

I wouldn't be surprised if our CEO insists that they come back next year!