Profile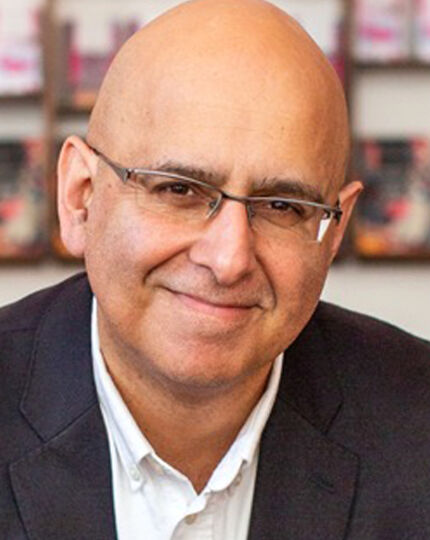 Former clinical psychologist, guide to an ever-changing world
Sarb Johal is a best selling author, award winning broadcaster and inspirational speaker with an insatiable curiosity about human experience. For more than three decades Sarb worked as a clinical psychologist, helping people and organisations find their way through challenging times with greater equanimity, resilience and connection. He advised the UK and New Zealand governments and the World Health Organisation through some of the major public health and disaster crises of this century.
Mission
In 2018, after 35 years in psychology, Sarb decided to make an exit in order to focus on his writing and broadcasting. Cut to the COVID-19 pandemic, leaving Sarb, an emergency and crisis psychologist, back in the depths of his career, more influential and needed than ever. Finally, as we are slowly tailing out of the density of the pandemic, and more psychologists are able to move into these positions, Sarb has felt he can step back out and step into following the joy.
Sarb wants to share this joy and help people make sense of themselves. While validating their experience, Sarb wants to question what it is we are experiencing and what's next, how can we make it better? He shares insights targeting how to live well with uncertainty, safeguarding mental health, sustaining relationships, finding connections in spite of differences, thriving at work and bringing more joy, meaning and purpose to everyday life.
Keynote
Sarb wants to spark curiosity about this ever-changing world and inspire people to soak up the everyday riches of a life well lived. Unpacking why humans think and behave the way they do, Sarb provides trusted and considered guidance. He values the practical approach and when Sarb encourages people to reflect, he offers specific tools to take with them.
With a focus on his speciality areas of Psychology, Communications and Tech, Sarb is empowering people to navigate through life's challenges, their way. Encouraging a willingness to look at the dark, light and the intriguing, Sarb normalizes struggle, encourages insightful questions and creates a safe space, cultivating trust and building community. Sarb strengthens self awareness, self care and a calm centre, maintaining balance through uncertain times.
Location
Wellington, New Zealand
Skills
Author, Broadcaster, Keynote Speaker, Making the complex simple, MC, Putting people and ease, remaining approachable, Speaker, Weaving together panel and diverse topics, Writing
Interests
Consumer technology, Cricket, Fitness, Music, Psychology
Speaking Topics
Balancing life as a parent in the modern world, Innovation, Lifestyle & Wellbeing, Living well within the 30,000 days we have to live on this planet, Motivational Speakers, Navigating uncertainty in the modern world, Staying fit as we get older, Wellbeing & psychology
Event Highlights
| | |
| --- | --- |
| 2022 | Emergency Communicators Conference - Speaker |
| 2022 | PPTA Leadership Summit - MC & Speaker |
| 2022 | Wellington Gold Awards Nominee Announcement - MC |
Testimonials (4)
DK | Speaker, Coach & Creative Producer

Sarb's contribution as MC of TEDxWellington has been a gift beyond measure. From his deep influence on our speaker coaching programme, to his masterful delivery and his skill in guiding audiences through an experience, Sarb makes the event so much richer. His contribution elevates the overall professionalism of the day and has created a positive legacy and future expectation of a high quality event.

Sarb's well-received speaking workshops cultivate trust, build relationships and amplify the overall programme. I have learned so much from him about influencing the narrative understanding and the psychological aspects of controlling nerves for speakers. When I grow up, I want to be Sarb Johal!

TEDxWellington & Creative Leadership NZ