Profile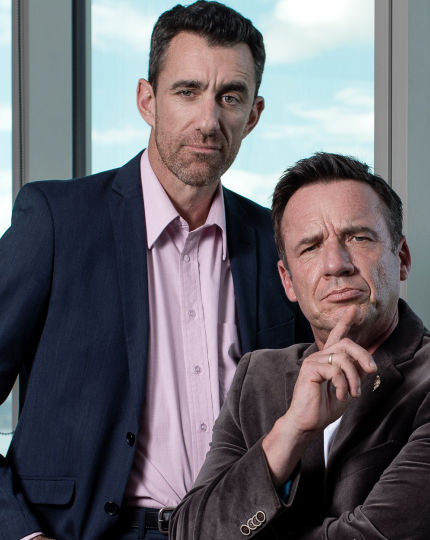 Actor, Comedian, Broadcaster, Entertainer, MC
Jason Hoyte and Mike Minogue are co-commentators on the hugely popular Alternative Commentary Collective (The ACC); co-hosts of hit podcast 'All Talk with Jase and Mike' and co-hosts of The Big Show on Radio Hauraki driving you home each weeknight from 4pm. They are well spoken, handsome and clean up after themselves.
Mike Minogue is best known as an actor in films like Hunt for the Wilderpeople; What We Do in the Shadows and Separation City as well as TV show Wellington Paranormal for which he won Best Actor at the 2019 NZ TV Awards.
Jason Hoyte has been an actor, comedian and broadcaster in New Zealand for 30 years. He has appeared in over 30 shows and is best known for his roles in Outrageous Fortune, Nothing Trivial, Stolen and 7 Periods with Mr Gormsby. He was also part of award winning Radio Hauraki drive show Daily Bhuja for 6 years, and has been a regular member of the Alternative Commentary Collective.
Location
Auckland, New Zealand
Skills
Broadcaster, Celebrity