Profile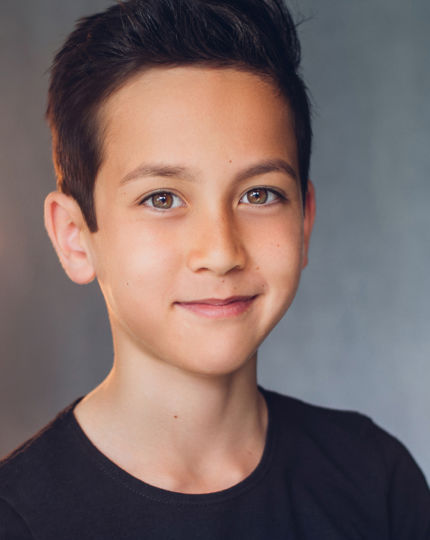 Location
Auckland, New Zealand
Ethnicity
Chinese, European
Career Highlights
Lukas is an Chinese-New Zealand dancer and actor who specializes in ballet. Despite being young, Lukas has already worked with organizations such as New Zealand Opera and the Royal New Zealand Ballet. His notable stage credits include roles in Pricilla Queen of the Desert, La Boheme and The Nutcracker. His role as Little Guido in the theatre show Nine earned him a Best Supporting Actor in a Musical Award at NAPTA Awards. A versatile performer, Lukas has also appeared in television series Power Rangers and the pilot for Sidelines.

Awards.
| | |
| --- | --- |
| 2021 | Grand Finalist Youth America Grand Prix International Virtual Finals |
| 2021 | RNZB Mentor Programme |
| 2018 | NAPTA Award - Best Supporting Actor in a Musical, "Little Guido" |
| 2017 | NAPTA Award - Best Supporting Ensemble, "Evita" |
| 2017 | Production Award - MindCraft, the Musical, Grandma - Lead |
Television.
2018
Power Rangers Beast Morphers
Joey
Power Rangers Productions Ltd
Dir.

Riccardo Pallizzeri

2018
Sidelines - Pilot
Ryan Radich
Laugh Club NZ
Dir.

Cristobel Araus Lobos
Theatre.
2021
The Unruly Tourists (workshop)
The Bunnings Hat Kid
NZ Opera
Dir.

Thomas de Mallet Burgess

2020
Mary Poppins
Michael Banks
The Amici Trust
Dir.

Russell Dixon

2019
A Christmas Story
Ralphie (Lead)
Melodramatic Music Theatre Collective
Dir.

Maryanne Rushton

2019
Turn of the Screw
Miles
New Zealand Opera
Dir.

Mallet Burgess

2018
Bonnie and Clyde - Tap Duo
Clyde
Holi Festival
Dir.

Gemma Boswell

2018
La Boheme
Child
NZ Opera
Dir.

Jacqueline Coats

2018
Nutcracker
Fritz
Royal New Zealand Ballet
Dir.

Val Caniparoli

2017
Carmen
Child/Urchin
NZ Opera
Dir.

Lindy Hume

2017
MindCraft
Grandma (Lead)
Owairaka District School
Dir.

Ms Green

2017
Nine
Little Guido
Auckland Music Theatre
Dir.

Aaron Tindall

2017
Romeo and Juliet
Boy 1
Royal New Zealand Ballet
Dir.

Francesco Ventriglia

2016
Evita
Child (Soloist)
Auckland Music Theatre / Amici
Dir.

Richard Neame

2016
Priscilla Queen of the Dessert
Benji
Lunchbox Productions
Dir.

Dean Bryant

2016
The Wizard of Oz
Lead Boy
Royal New Zealand Ballet
Dir.

Francesco Ventriglia

2015
A Christmas Carol
Tiny Tim
Opera Factory
Dir.

Sally Sloman

2015
Tosca
Choir Boy
NZ Opera
Dir.

Stuart Maunder
Training.
Phlippa Campbell School of Ballet - 2021
RNZB Mentor Programme - 2021
Liz Mullane and Rachel Bullock Screen Acting Workshop for Advanced Teens - 2020
Auditioning for Screen workshop at TAPAC with Matt Dwyer - 2018
Australian Ballet School - International Training Programme - Ballet - 2017
'To Be' - Kids Acting / Audition Workshop with Linda McFetridge - 2016
Rowe Dance - Classical & Contemporary Dance - Ballet - 2016
Acting for Screen Kids Classes at TAPAC with Fiona Edgar - 2014
Classical Singing and Musical Theatre with Fay McNeil - 2014
GB Choreography - Tap, Duo, and Song & Dance - Tap - 2014