Profile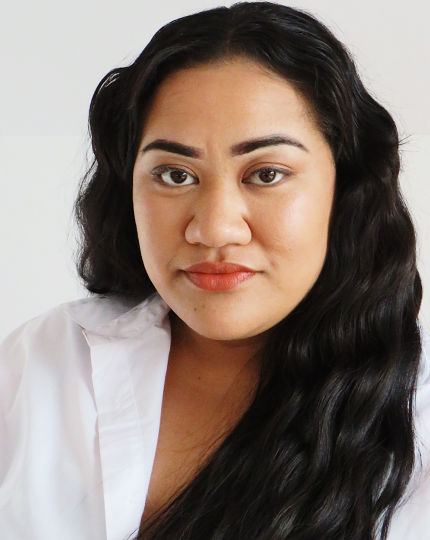 Location
Taranaki, New Zealand
Career Highlights
Samoan-New Zealander Lahleina recently graduated from Toi Whakaari: New Zealand Drama School with a Bachelor of Performing Arts. While studying, she landed numerous roles in stage productions including lead roles in Sister Act: The Musical and Merrily We Role Along. Lahleina has also appeared in two short films at Toi Whakaari - Saana and The Lobster.
Film Film.
2020
Toi Whakaari: FWD Festival Film: Saana
Mum, Nana
Toi Whakaari
Dir.

Lahleina Feaunati

2019
Mise En Scene: The Lobster
Biscuit Woman/Hotel Manager
Toi Whakaari
Dir.

Vaughan Slinn
Theatre.
2021
Batch Schools Tour 2021
Polylogue Performer (Supporting)
TAHI: New Zealand Festival of Solo Performance
2021
Transmission
Moira Sa'imoa (Supporting)
Harcourt McKenzie Partnership
Dir.

Miranda Harcourt, Stuart McKenzie

2020
Double Bill: Lockdown La Ronde
Rita
Toi Whakaari
Dir.

Jarod Rawiri

2019
Merrily We Roll Along
Mary Flynn (Lead)
Toi Whakaari
Dir.

Simon Bennett

2019
Shakespeare at War
Queen Margaret (Nafanua)/Tamora/Ensemble
Toi Whakaari
Dir.

Chris Jannides

2018
Glass Menagerie
Amanda Wingfield
Toi Whakaari
Dir.

Heather Timms, Erina Daniels

2018
Sister Act: The Musical
Deloris Van Cartier (Lead)
Wellington Musical Theatre
Dir.

John Goddard

2017
Water Ties
Sina
Devised Theatre: Victoria University Wellington
Dir.

Lahleina Feaunati

2014
The Crucible
Tituba/Ensemble
Sacred Heart Girls' College, NP
Dir.

Marie Hunneyball

2014
Wheelers Luck
Johnny, Trisha
West Coast Theatre New Plymouth
Dir.

Holly Shanahan
Voice.
2020
Mum's Voices:
Mum (Lead)
Subcreators
Dir.

Aashchay Patel

2019
Into The Pickle Jar
Tali (Lead)
Tomorrow Rain Productions, TVNZ Ondemand
Dir.

Matasila Freshwater

2019
RNZ: What Will I Be Today Series
Esera (Lead)
Pow Studios
Dir.

Marie Sugars, Jane Waddell
Training.
Toi Whakaari: New Zealand Drama School - BA of Performing Arts - 2018, Toi Whakaari: New Zealand Drama School