Profile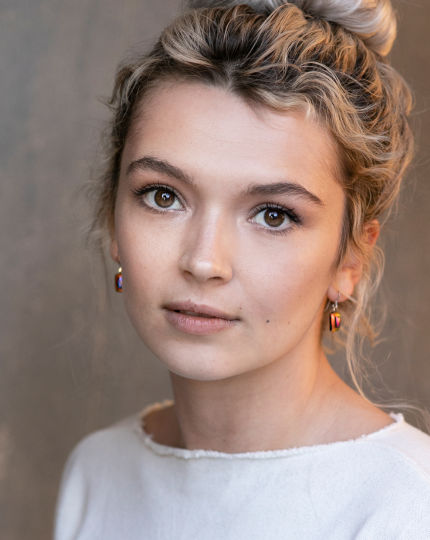 Location
Auckland, New Zealand
Career Highlights
Elizabeth graduated from Toi Whakaari: New Zealand Drama School in 2019. While studying, she starred in a number of productions including as the lead in short film Workshop, as well as various roles in stage shows Boys, The Two Gentlemen of Verona and Glass Menagerie.
Short Film.
2019
Workshop
Greta (Lead)
Toi Whakaari
Dir.

Judah Finnigan

2018
Half Forgotten
Dinner Guest
Sam Small
Dir.

Sam Small

2018
Mise-en-Sc ène - The Lobster
Loner Leader / Biscuit Woman / Maid
Toi Whakaari
Dir.

Vaughan Slinn

2017
Unplugged
Eva
Massey University
Dir.

Liam Collinson
Theatre.
2019
Boys
Moira / Lizzie / Fluff
Toi Whakaari
Dir.

Eleanor Bishop

2018
Shakespeare Tour
Paulina / The King
Toi Whakaari
Dir.

Chris Jannides

2018
The Two Gentlemen of Verona
The Duchess of Milan (Supporting)
Toi Whakaari
Dir.

Jacqueline Coates

2017
Glass Menagerie
Laura
Toi Whakaari
Dir.

Heather Timms / Erina Daniels

2017
Solos - Dial R for Rave
Various Characters
Toi Whakaari
Dir.

Patrick Carroll, Jonathan Price, Holly

2016
Förslag Till Framtiden
Stagehand
Teater 23
Dir.

Erik Holmström

2015
Bara en dörr
Various Characters
Gwendolyn Nielsen
Dir.

Gwendolyn Nielsen

2014
Amadeus
Servent
Malmö Stadsteater (Malmo City Theatre)
Dir.

Frede Gulbrandsen
Training.
General American Accent with Chris Stewart - 2018
General Australian Accent with Alexandra Whitham - 2018
Michael Chekov Masterclass with Elena Stejko - 2018
Performance in Process, Masterclass with Ahi Karunaharan and Sophie Roberts - 2018
Screen Workshop Television - Shortland Street with Amelia Reid-Meredith - 2018
Stage Combat with Alan Henry - 2018
Stage Masterclass - Clowning and Character Development with John Bolton - 2018
Audition Workshop with Tina Cleary - 2017
Ballroom Dancing with George Nicholls - 2017
PEM Perdekamp Emotional Method with Stephen Perdekamp - 2017
Screen Workshop, Vista - Actor in Relationship with Miranda Harcourt - 2017
Stage Combat with Alexander Holloway - 2017
Toi Whakaari: NZ Drama School - Bachelor of Performing Arts (Acting) - 2017
High School Diploma in Drama (Specialising in Acting + Directing) at Malmö Latinskola - 2013
Method Acting for Screen with Anja Schmidt - 2011